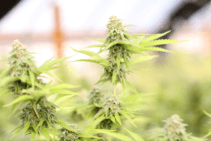 There's no denying that 2020 has been a tricky year for everyone. With the holiday season upon us though, it's time to forget all about our problems for a while, gift presents to one another, and spend time with some family and friends.
This Christmas, more than ever, we need to take the time to relax, chill, and enjoy ourselves. One of the best ways to do this is to get your hands on some of the best weed strains of 2020. Options like the snowball strain or old favorites like the OG Kush can perfectly complement the festive period.
With all of this in mind, let's take a more detailed look at these popular strains, including the Slurriance strain, Royal Cookies, and more.
Snowball
Typically, if you think of snowballs during the holiday, you think of throwing them around and having fun. After smoking this strain, the word will take on an entirely different meaning this holiday season. This strain has a high THC content of around 21-24% and users have stated that it is is incredibly relaxing. This could be the perfect weed to smoke when you're done with work and ready to relax for the holidays.
Slurricane
This Indica dominant hybrid from the team at In-House Genetics could be exactly what you need this festive season. This particular strain is not only packed with flavor, but it also offers a nice, relaxing high that can help you unwind for the holidays after what has been a fairly stressful year for everyone.
Space Jill
The holiday period can be a tiring time, and family duties can see your energy levels sapped very quickly. Space Jill, which is a Sativa-dominant hybrid created by TGA Genetics could be just the strain of weed you are looking for to get that boost.
The strain contains THC content from 19-28%, which is more than enough to brighten your mood when your feeling a little bit stressed out over the holidays.
Royal Cookies
Whatever you do, make sure you don't accidentally leave these cookies under the tree for Santa Claus. Royal Cookies come with a 23% THC content and can provide you with a very nice and relaxing high when you just want to unwind and enjoy the festivities.
This strain is an Indica dominant hybrid and is also renowned for providing users with the munchies. If you're trying to avoid eating too many mince pies this Christmas, then this may not be the choice for you, but if you want to relax, indulge, and do spend your holidays the way that is intended, then make sure you add Royal Cookies to your shopping list.
OG Kush
Any regular weed smoker will tell you that OG Kush is an all-time favorite. In what has been a particularly difficult year, an old-classic like OG Kush can provide some comfort. The strain is Indica dominant and has a THC content of around 19%. It is renowned for producing a great high and providing smokers with a good laugh. The weed itself is also full of flavor and could be exactly what is needed on what promises to be a holiday season quite like no other.
Fire OG
Fire OG is definitely an essential Christmas strain. The pure flavor of this hybrid of OG Kush and San Fernando Valley OG Kush is fantastic and it also manages to produce an outstanding high that can last for several hours. It provides a nice chilled high that ensures that you will get a nice deep sleep for when Santa is visiting. This strain is also particularly popular among those who smoke for medical purposes and can help relieve any aches and pain that you might have so that you can have a relaxing festive period.
Bubble Gum
Bubble Gum is the perfect strain to get you in a nice mood to spend some time chatting away with your family. This popular strain has been around since the 1970s and has earned several plaudits over the course of the last five decades. Bubble Gum, as its name might suggest, not only tastes great but it can also make you feel relaxed and chatty, which can be perfect for you when you have to spend long evenings inside with the family.

Author's Bio: 
Lana Jones is 28 and is crazy about cannabis and writing.
She likes that she can help the world by writing about the possibilities of cannabis for everyone.