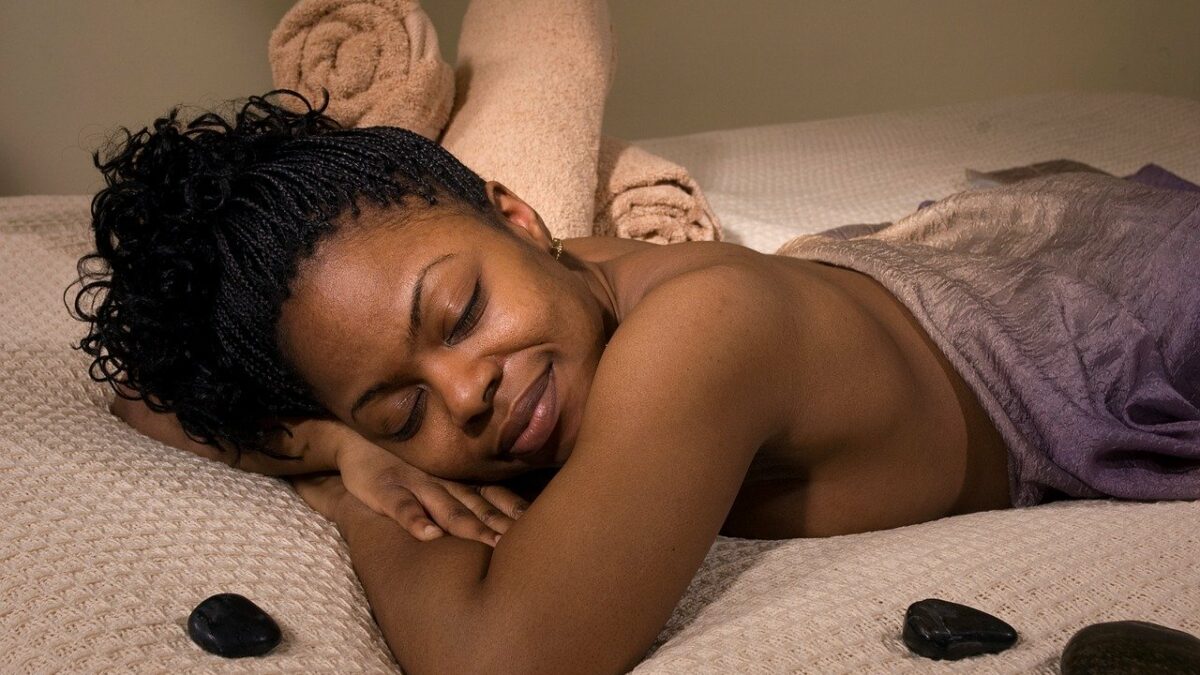 When it comes to taking care of ourselves, most of us know all the right things to do such as drinking lots of water, exercising, and getting plenty of rest, yet we get busy and tend to forget.
The pandemic is taking a toll on all of us – we are edgy, short-tempered, out of sorts, and confused by all the conflicting news from the 'experts.'
We are told we can't go outside, or we have to distance ourselves, which means giving up some of our normal activities such as hair appointments, going to the gym, or getting a massage.
Just the other day, my husband mentioned a massage and how we both could use one. Here in Mexico, we have a good friend who gives them but, unfortunately, that's not an option at the moment. However, there are some amazing massage oils on the market that you can administer yourself or ask your partner to. Why not treat yourself and reap the benefits – target pain, induce relaxation and sleep, relieve stress, and moisturize and nourish your skin in the process.
Here is our list of 9 Best CBD Massage Oils.
1) CBDfx Full Spectrum Massage Oil
If you are looking for a luxury, quality massage oil, CBDfx Full-Spectrum Massage Oil is full of superior ingredients including Vitamin E and A, and wonderful smelling oils. Feel your tense muscles relax while nourishing and hydrating your skin.
Ingredients: Full-Spectrum CBD Oil, Sweet Almond Oil, Sunflower Oil, Fractionated Coconut Oil, Jojoba Oil, Calendula Oil, Rosehip Oil, Evening Primrose Oil, Peppermint Oil, Marjoram Oil, Wintergreen Oil, Ylang Ylang Oil, Rosemary Oil, Blue Tansy Oil, Bergamot Oil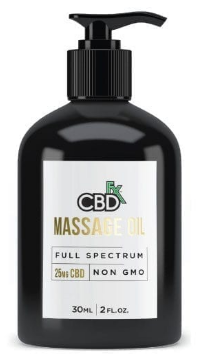 Features:
Full-Spectrum
Dry oil formula
Pump feature
Non-GMO, cruelty-free, phthalate-free, paraben-free, vegan
3rd party testing
CO2 extraction
Tracking link to products
Benefits:
25mg CBD
Non-greasy
Rich in vitamin E and A
Fights inflammation
 Aromatherapeutic oils and all-natural
2)

Receptra Naturals Serious Relax + Arnica Body Oil
Serious Relax + Amica Body Oil was formulated with you in mind providing a blend of natural and organic ingredients leaving you feeling relaxed and moisturized all over.
Ingredients: Full-Spectrum CBD, Lavender and Vanilla Fragrance, Arnica Oil, Jojoba Oil, Vitamin E and Camphor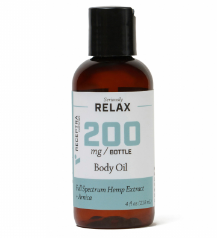 SAVE 15% WITH CODE: iscbdforme15
Features:
Full-Spectrum oil
3rd party tested
30-day full refund
Free shipping
Benefits:
200mg CBD/4 oz bottle
Contains arnica oil for tension relief
Moisturizing ingredients
Essential oils
3)

Cannabidiol Life Massage Oil – MIRASAJ
Cannabidiol Life believes its Massage Oil is so amazing that it will make you happy, ease your pain, stimulate the senses and provide a stress-free/anxiety-free environment.  This luxury CBD massage oil is loaded with full-spectrum oil, essential oils, and vitamin E and A.
Ingredients: 1,200 mg of Cannabidiol, Full-Spectrum Hemp Extract, Sunflower Oil, Caprylic Capric Triglyceride, Sesame Seed Oil, Jojoba Seed Oil, Grapeseed Oil, Juniper Berry Essential Oil, Rosemary Leaf Essential Oil, Peppermint Essential Oil, Sweet Basil Essential Oil, Eucalyptus Essential Oil, Lemon Peel Essential Oil, Lavender Flower Essential Oil, Ginger Root Essential Oil, Chamomile Flower Essential Oil, Roman Chamomile Flower Essential Oil, Black Pepper Essential Oil, Helichrysum Essential Oil, Vitamin E, Vitamin A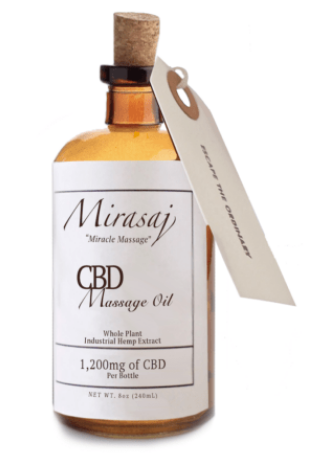 Features:
Full-Spectrum CBD Oil
8 oz/240 ml bottle
High-quality industrial hemp from Colorado
3rd party testing
Benefits:
1200mg CBD/bottle
12+  ingredients in Mineral Oil to promote relaxation and ease pain
Targets the endocannabinoid system through the skin's CBD & CB2 Receptors
Vitamins E & A
Promotes a pain-free, relaxed experience
4)

Lazarus Naturals CBD Massage Oil
Lazarus Naturals CBD Massage Oil is specifically formulated to offer all of the benefits of high-quality CBD while promoting comfort and relaxation. The oil absorbs directly into the skin for fast, deep relief where you need it the most.
Ingredients: Organic Jojoba Oil, Sweet Almond Oil, Fractionated Coconut Oil, Hemp Extract
*Contains Tree Nuts (Coconut)
**Consult your doctor before use if you have been advised against eating grapefruit.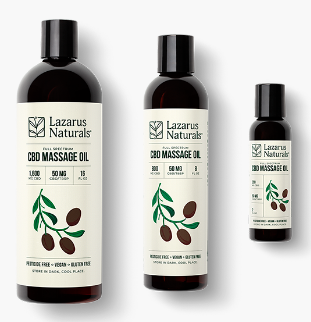 Features:
Full-Spectrum Hemp Extract
Available in three sizes – 2 oz, 8 oz, 16 oz
Ethanol extraction
All oils formulated in-house
Great reviews
Benefits:
50mg CBD/1 tablespoon
Available in 3 potencies – 200mg, 800mg, 1600mg
Promotes comfort and relaxation
5) CBD Oil Canada – THC Infused Massage Oil
This massage oil is 100% organic, made in Vancouver BC, and designed to deeply penetrate, relax and soothe. Infused with THC, organic almond and coconut oils, treat yourself with a great massage, from head to toe!
If you are looking for a massage oil to create a sensual aromatic experience, then this massage oil is for you.
Ingredients: Organic Coconut Oil, Organic Almond Oil, Organic Essential Oils, Solvent-free Tetrahydrocannabinol Distillate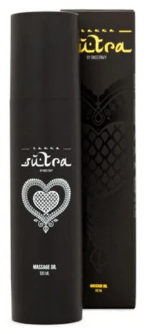 Features:
100 % organic
Manufactured in Vancouver
Benefits:
300mg THC
 Designed to deeply penetrate, relax and soothe
Note: Since the writing of this article, the original product is not available, however, this company has other soothing topical products such as their CBD Aloe Vera Gel. Since they go above and beyond in customer service, we are sure they will have something for you.
6)

Aspen Green Nourishing Body Oil
Aspen Green's Nourishing Body Oil is infused with the whole plant hemp extract and a nourishing blend of Evening Primose, Jojoba, and MCT Oils to soothe, smooth, and soften.
Ingredients: Organic Oenothera Biennis (Evening Primrose) Oil, Organic Simmondsia Chinensis (Jojoba) Seed Oil, Organic Caprylic/Capric Triglycerides, Organic Prunus Dulcis (Sweet Almond) Oil, Tocopherol, USDA Certified Organic Full Spectrum Hemp Extract, Organic Lavender Essential Oil, Organic Bergamot Essential Oil, Organic Frankincense Essential Oil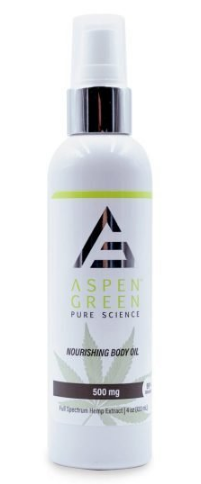 Features:
Full-Spectrum
Easy to use 4 oz pump
Cruelty-free
Organic ingredients
3rd party testing
Benefits:
300mg CBD
Perfect for all skin types
Blend of essential oils and organic ingredients to nourish and moisturize the skin
 7)

Harmony Hemp Signature Massage Oil
Harmony Hemp Signature Massage Oil eases away your stress with an unscented formula,  penetrating deeply into the skin for maximum relief.
Ingredients:  Full-Spectrum CBD, Natural Ingredients, Unscented Signature Blend of oil, Almond Oil, Sunflower, and Hemp Seed Oils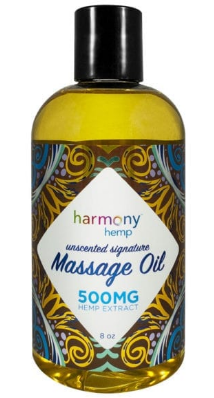 Features:
Full-Spectrum
High-grade oil manufactured in the USA
Tested by on-site laboratories for harmful ingredients
Benefits:
500mg CBD/bottle
Natural ingredients
Unscented signature blend of oils
Penetrates deeply to provide maximum relief
8)

Mary's Nutritionals Hemp-Infused Massage Oil
Mary's Nutritionals Hemp-Infused Massage Oil is formulated for skin-related issues with Full-Spectrum hemp extract with naturally occurring CBD, antioxidant-rich sunflower seed oil, grapeseed oil to calm skin irritations, and to hydrate and rejuvenate your skin while soothing the aches of an active, busy life.
Ingredients: High Oleic Expeller-Pressed Sunflower Seed Oil, Rice Bran Oil, Grapeseed Oil, Tocopherol, Full-Spectrum Activated Hemp Extract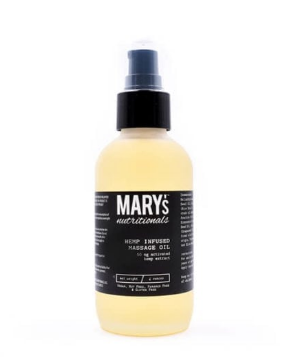 Features:
Full-Spectrum
Vegan
Paraben (preservatives) free
Gluten-free
Nut-free
Benefits:
50mg CBD
Designed to enhance spa services
Antioxidant-rich
Hydrates and restores the skin
Calms skin irritations
9) Uncle Bud's CBD Massage & Body Oil
Sore muscles or just want to be pampered? Uncle Bud's CBD Massage & Body Oil is formulated to deeply moisturize your skin, made with CANATREX PLUS™ which is a proprietary CBD-infused formula containing organic hemp seed oil.
Ingredients: (Hemp) Seed Oil, Carthamus Tinctorius (Safflower) Seed Oil, Helianthus Annuus (Sunflower) Seed Oil, Olea Europaea (Olive) Fruit Oil, Coconut Alkanes, Coconut Oil, Shea Butter Ethyl Esters, CBD, Tocopherol, Fragrance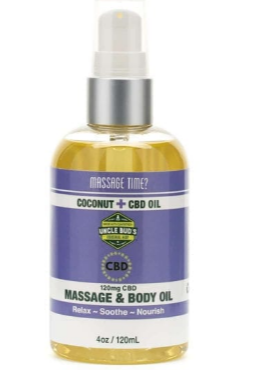 Features:
4 oz bottle
Made in the U.S.A.
THC-free
Coconut scented
Benefits
120mg of CBD
Deeply moisturizes skin
High in Vitamins A, D & E
Omega-rich for healthy skin
What is CBD
Cannabidiol (CBD) is a phytocannabinoid (produced by plants) and one of the approximately 113 identified cannabinoids (naturally occurring compounds) found in the cannabis plant. THC is the other common cannabinoid that is responsible for the high or euphoric feeling associated with its use.
How Does CBD Massage Oil Work
As a topical, CBD massage oil penetrates the skin for fast, deep relief where you need it the most.
Our bodies have natural cannabinoid receptors, found throughout the body which work with the endocannabinoid system.
The human endocannabinoid system (ECS) is made up of endocannabinoid receptors found on the surface of cells throughout the body and the endocannabinoids (cannabinoids produced by human or other mammal bodies) that interact with those receptors.
The ECS system is vast and regulates many bodily functions such as appetite, sleep, moods, immune response, metabolism and more.
We suggest you read this article for a better understanding of what the endocannabinoid is and the role it plays with CBD.
What Are Some Benefits of CBD Massage Oils
Supports muscles and joints
Studies have shown that CBD helps to support recovery from inflammation as well as supports the everyday function of muscles and joints. CBD helps you to relax so movement becomes easier.
In a double-blind study, 24 volunteers with Seasonal Affective Disorder received CBD or Placebo. The study was a simulated public speaking test. It was concluded that those with CBD had less anxiety, cognitive impairment, and discomfort while those on the placebo showed the complete opposite and an increase on all counts – more anxiety, cognitive impairment, discomfort, and alert levels.
CBD has been shown to have an effect on anandamide which is taken from the word Ananda which means "joy, bliss, delight," and amide.  Anandamide is a cannabinoid and is produced by the nervous system to stimulate serotonin (which improves moods)  in the brain. If your mood is low it could be because your serotonin levels are low.
Moisturizing the skin and prevent dryness
Most massage oils are a combination of base oils and essential oils. They should be organic if possible. They should also be top quality, deep conditioning. and moisturize without feeling greasy.
Aids in relaxing and sleeping
According to the American Sleep Apnea Association  as many as 70 million people in the United States say they are sleep-deprived.
Canada is the third most sleep-deprived country (behind the United Kingdom and Ireland). Almost a third said they don't get enough sleep.
A research published in January 2019 involved 72 adults with primary issues of anxiety (47) and poor sleep (25). The individuals were given 25mg of CBD in capsule form each day. 79% of 57 patients had decreased anxiety within the first month. Sleep improved within the first month in 48 patients. CBD was well tolerated in all patients except for three.
Although more clinical studies are needed, the conclusion was that cannabidiol may be beneficial for anxiety and sleep-related disorders.
What to Look for When Buying CBD Massage Oil
As with any CBD oil product, not all are created equal. A few important points to consider:
ARE THEY THIRD-PARTY TESTED
Most companies do provide a certificate of analysis and make them available on their sites. These tests are to ensure you are not getting harmful contaminants and to measure the amounts of cannabinoids in products.
IS THE COMPANY REPUTABLE?
A reputable company will tell you where their hemp is sourced from and the quality of their other ingredients. They will provide good customer service and readily answer questions about their products.
WHAT EXTRACTION METHOD IS USED?
The two most common methods are the CO2 and ethanol extraction.
CO2 Extraction is the most widely used. It uses the carbon dioxide as a solvent and doesn't leave a residue behind. Extraction conditions are above the critical temperature of 31 degrees C and critical pressure of 74 bar (metric unit of pressure).
The Ethanol Extraction is the single-steam process conducted under warm or cold conditions, and generally considered safe for human consumption according to the FDA. It is the natural byproduct of plant fermentation.
ARE THEY USING BROAD OR FULL-SPECTRUM CBD OIL (less than 0.3%THC)
Broad-Spectrum suggests the products contain zero THC.
Full-Spectrum means means the 'full plant extract' is included, so it not only contains the CBD but also other plant molecules. It retains the natural balance of the terpenes (a combination of hydrogen and carbon) and cannabinoids of the plant.
It is believed that the cannabinoids and terpenes work simultaneously producing what is called the Entourage Effect and is more therapeutic than the individual components on their own.
HOW MUCH CBD IS IN THE PRODUCT?
It is important to know just how much CBD or hemp extract is in the product you are purchasing and product labels should clearly indicate this. After all, it is your cash so you have a right to know. Avoid labels that only say Cannabis sativa seed oil, hemp seeds or hemp seed oil. Another good reason to buy from a reputable company!
Final Thoughts
Massage oils will rejuvenate, energize, and make you feel better. Using massage oil with CBD could help maintain mobility, support a sense of calm, maintain skin revitalization and conditioning, or just leave you feeling relaxed. You are worth it! Why not pick one and try it for  yourself?
What are your thoughts on massage oils? Do you like them? Let us know in the comments below.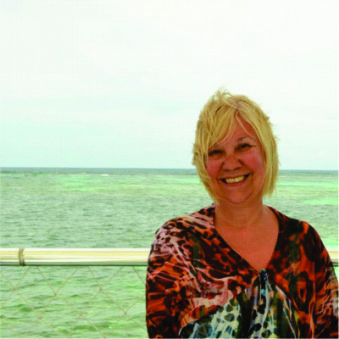 Since 1994, I have suffered on and off with chronic pain as a result of degenerative joint changes in both my hips and knees. After refusing traditional pharmaceutical prescriptions as I felt they were invasive to my body, I started researching CBD products, specifically oils and medical marijuana products. I am happy to say that I have been taking them for over 3 years with tremendous success!