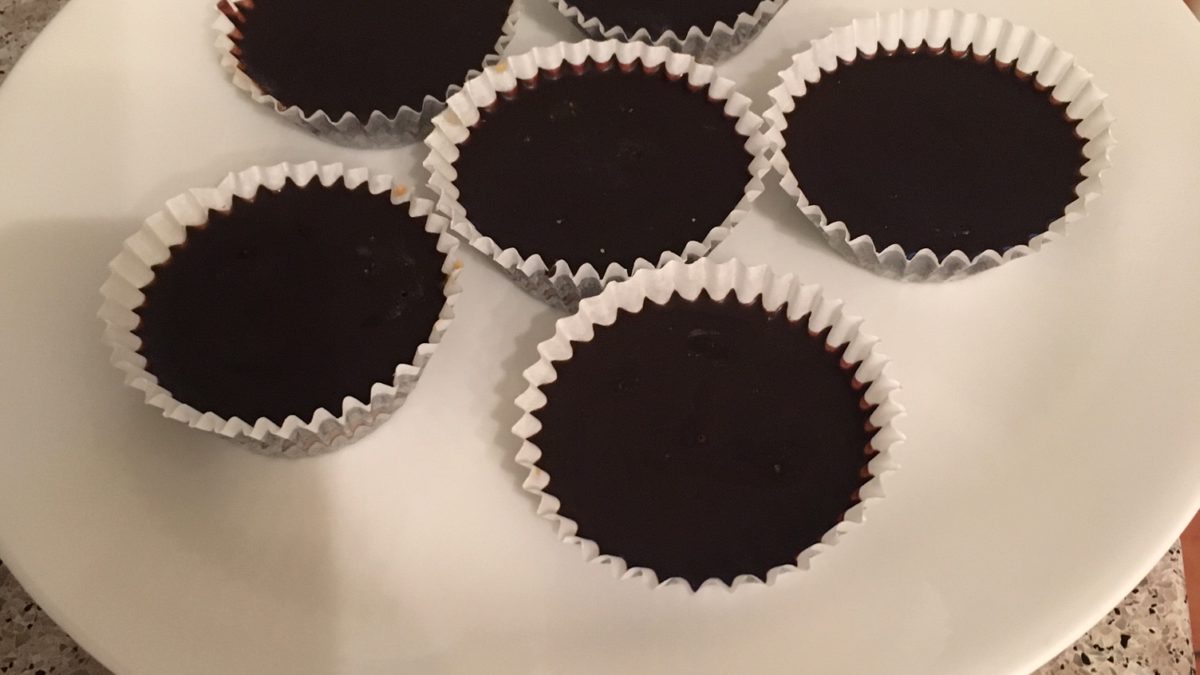 PEANUT BUTTER & CHOCOLATE CUPS
For Peanut Butter and Chocolate lovers, here is a decadent treat for you. Adding hash butter and healthy cacao powder makes it a little tastier! An easy, four-ingredient recipe that is sure to be a winner.
INGREDIENTS:
½ cup coconut oil
½ cup hash butter at room temperature (sofened)
1 cup cacao powder
Natural or organic peanut butter*
PREPARATION:
You will need a pot, wooden spoon, spatula, measuring cup, muffin pan (12), and paper cups.
Add hash butter and coconut oil to a pot over very low heat. When it starts to melt, add the cacao powder and stir well with wooden spoon, cooking until just melted and easy to pour (see notes below).
To make the base, slowly pour enough mixture to cover the bottom of the paper cups (I like the paper cups that are shorter and just come to the top of the cupcake/muffin pan rim – see photo below).
Freeeze 15 to 20 minutes (should be hardened).
Add 1/2 to 1 teaspoon of peanut butter to cover the chocolate.
Pour the remaining cacao mixture over the top of each peanut butter cup until just covered. If  you have a little chocolate leftover, distribute evenly into cups until gone. Return to freezer.
To store, keep in freezer until ready to eat.
NOTES:
If your butter is really hard, let it soften until you can measure ½ cup.
If your pot doesn't have a pouring spout, you can pour the cacao mixture into a measuring cup, using the spatula to get it all.
The peanut butter was tricky. I experimented with half filled with natural, organic peanut butter and half with Kraft peanut butter. The ones with the natural peanut butter were messy to eat (the peanut butter was runny but see how perfect they look in the photo at the top of the page). The ones with the Kraft were way less messy. However, I used crunchy which made for rather an unattractive lumpy look (see photo below). Next time I will use the Kraft Smooth. Be patient, it gets better with practice.
When you eat them, I find the chocolate melts quickly. I suggest cutting in 4 quarters and then eating your treat. Less mess on the fingers! Also, if you are new to eating edibles, I suggest 1/4 to 1/2 portion size.
Remember to eat responsibly and know the laws in your area!
For full medical disclosures and disclaimers, check out the footer area on my website: iscbdforme.org