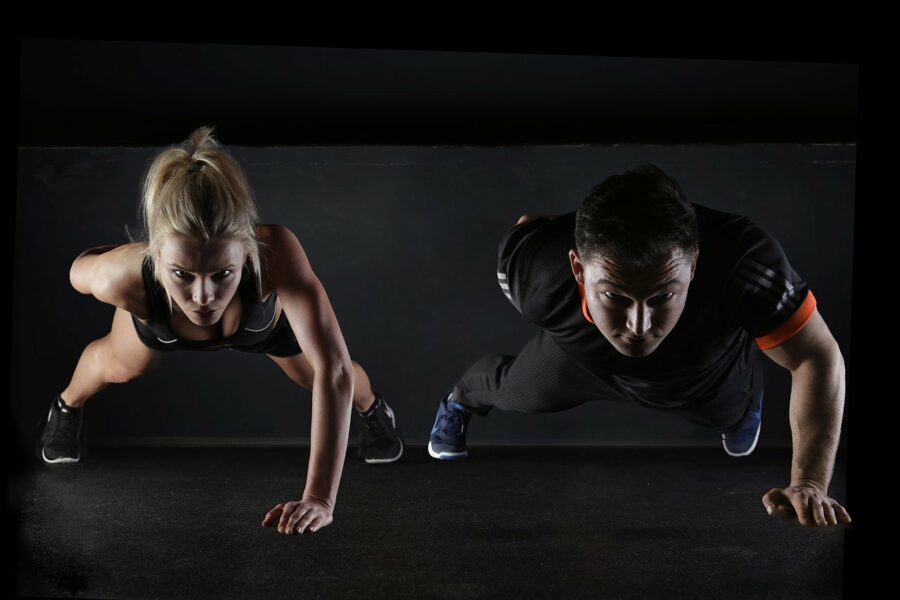 When applying a CBD Sports Cream to Soothe Muscles & Joints topically – directly to the skin – it does not reach the bloodstream, but rather is absorbed through the skin's surface. When applied liberally, it penetrates to reach nearby cannabinoid receptors.
Applied to the troubled area, it is absorbed into the skin and works on where it is needed the most, allowing for quicker relief of sore muscles and joints.
In addition to CBD muscle and joint pain relief creams, products are also available as gels, sprays, patches, balms, and salves.
Why Do We Work Out?
"Working out or exercise is any bodily activity that boosts or maintains physical fitness and our overall health and wellness."
Reasons to work out include improving our strength and health, developing muscles, improving our cardiovascular health, weight loss or maintenance, and enjoyment.
Since a good many of us are in either self-isolation or quarantine, it is important to maintain our health and to stay as active as possible. Some people are fortunate to have home gyms or even a back yard where they can exercise. However others, like me, just exercise in an area using whatever equipment we have. Still others are ordering home gym equipment to stay fit and healthy.
What Happens To Our Bodies When We Exercise?
When you exercise, you will notice your body going through several changes – you sweat, breathe heavier, get red in the face, your lungs feel as though they are going to burst, and your heart pounds!
Have you ever wondered how exercise is affecting each part of your body? It affects your heart, kidneys, brain, muscles, joints, lungs, diaphragm, your face and skin. Here is a great article supported with expert opinion from the Mayo Clinic Sports Medicine Center and other medical personnel explaining how each part of your body is affected during workouts.
What Should You Do After Working Out?
Our bodies need a recovery period after working out. Changing up your routine, (cardio, strength training, etc.) over the course of a week will give your body time to recover. After the workout:
Cool down with a stretch – this will help to keep your muscles and joints more limber

Drink plenty of water – sweating during workout uses up water in your body so you need to replace it. If not, you can end up with tiredness, headaches, and feeling lousy

Take some protein, carbs and fats – to rebuild and heal your muscles and prevent the loss of lean mass – a good source would be Greek yogurt, eggs or Navy beans, bananas, nuts

Replace electrolytes – sweating causes loss of sodium chloride, calcium, magnesium and potassium;  muscle cramping can occur –  a good source would be bananas or sports drinks

Apply CBD cream – to soothe tired, sore muscles and joints, and target inflammation

Get plenty of sleep – getting enough sleep is important to effectively rebuild muscles
After a week of strenuous exercise, do light 'rest' activities – maybe dusting the house, swimming, walking, etc. This will keep you active but at a much slower pace than your strenuous workout.
To help you choose a CBD infused topical cream to use before or after your workout, we have compiled a list here for you.
TOP CBD SPORTS CREAM FOR MUSCLE & JOINT PAIN
(1) CBDPure Muscle & Joint Formula
CBDPure Muscle & Joint formula is made with full-spectrum CBD and natural ingredients to soothe and support strained muscles and joints, giving you quicker, stronger, and cleaner relief. Great for sports training/recovery, as well as everyday use.  Apply a pea-sized amount of cream directly to the affected area.
Ingredients: Water (Aqua), Simmondsia Chinensis (Jojoba) Seed Oil, Menthol, Polyacrylamide, Full Spectrum Hemp (Cannabis Sativa) Oil, C13-14 Isoparaffin, Squalane, Eucalyptus Globulus Leaf Oil, Prunus Armeniaca (Apricot) Kernel Oil, Sodium Hyaluronate, Salix Alba (White Willow) Bark Extract, Phenoxyethanol, Laureth-7, Ethylhexylglycerin, Glycerin
HIGHLIGHTS:
250mg full-spectrum CBD
Menthol and White Willow Bark to boost effectiveness
Muscle and joint support
Fast relief within 2 – 3 minutes
Non-greasy formula
90-day money-back guarantee
Third-party testing
Excellent customer support
_______________________________________________________________________
(2) Green Roads CBD MUSCLE & JOINT CREAM
Green Roads' CBD Muscle & Joint Relief Cream is a great solution to support weary joints and muscles. Perfect relief for after workouts, daily commute, and long travels.
Ingredients: CBD Hemp Isolate, Lavender and other Beneficial Extracts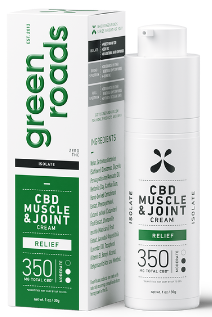 HIGHLIGHTS:
350mg CBD
Lavender and other natural extracts
Supports muscles and joints
Pleasant, mild scent
No animal testing
Easy pump applicator
Excellent reviews
Third-party testing
30-day money-back guarantee
_______________________________________________________________________
(3) Joy Organics CBD Sport Cream
Joy Organics CBD Sport Cream is a perfect addition to your workout by supporting healthy muscles and keeping you limber throughout the day. Apply before, during, or after a workout.
Ingedients: Water/Aqua, Organic Olea Europaea (Olive) Fruit Oil, Menthol, Organic Glycerin, Cetearyl Glucoside, Cetyl Alcohol, Sorbitan Olivate, Gluconolactone, Carthamus Tinctorius (Safflower) Oleosomes, Cinnamomum Camphora (Camphor) Bark Oil, Phytocannabinoid-Rich Hemp Extract, Xanthan Gum, Sodium Benzoate, Sodium Stearoyl Glutamate, Potassium Sorbate, Tocopherol, Organic Lavandula Angustifolia (Lavender) Oil, Organic Rosmarinus Officinalis (Rosemary) Oil, Organic Mentha Piperita (Peppermint) Oil, Organic Gaultheria Procumbens (Wintergreen) Oil, Organic Origanum Majorana (Sweet Marjoram) Oil, Organic Aloe Barbadensis Leaf Juice, Sodium Chloride, Calcium Gluconate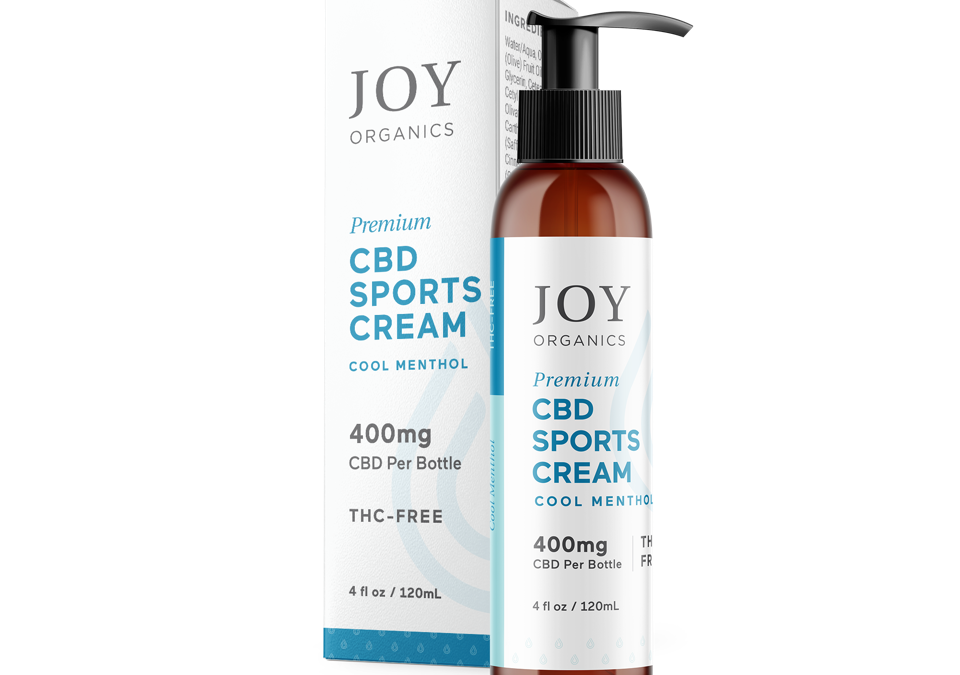 Save 15% Off. Use Code: 


iscbdforme15
HIGHLIGHTS:
400mg Premium broad-spectrum CBD
Methol & Camphor to provide a cooling effect
Supports healthy muscles
Use before or after a workout
Manufactured in USA
Vegan and THC-free
Third-party testing
30 day money-back guarantee
Free shipping
_______________________________________________________________________
(4) Veritas Farms Full-Spectrum CBD Sports Cream
Veritas Farms CBD Sports Cream was formulated by compound pharmacists for optimal absorption and long-lasting relief. Perfect for active individuals. Apply directly to skin as needed.
Ingredients: C12 – 15 Alkyl Benzoate, Caprylic/Capric Triglycerides, Cetyl Alcohol, Ethylhexylglycerin, Glyceryn USP, Glyceryl Stearate, Hydroxyethyl, Acrylate/Sodium Acryloyldimethyl Taurate Copolymer, Oleic Acid, Olive Oil, Peg-100 Stearate, Phenoxyethanol, Polymethylsiloxane, Purified Water, Stearic Acid, Trolamine Nf And Vitamin E Acetate, Full Spectrum Hemp Oil (Aerial Parts)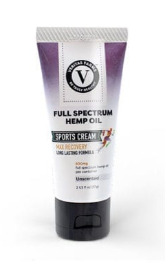 HIGHLIGHTS:
600mg CBD Oil
For athletes and active lifestyles
Natural Ingredients & preservatives
Non-greasy or sticky
Optimal Absorption and relief
Hemp farmed in Colorado
Full-spectrum CBD
Unscented, Cruelty and Paraben-free
Third-party tested
30-day money-back guarantee
_______________________________________________________________________
(5) CBD Magic CBD2Heal CBD Healing Salve – Canada
This popular CBD Healing Salve is full of Essential oils, Beeswax and CBD to aid in the relief of muscle and joint pain, bruises and chronic pain. Apply a small amount to the affected area and feel the ointment go to work within seconds!
Ingredients: Organic Coconut Oil, Organic Beeswax, CBD Isolate, Juniper Berry Essential Oil, Laurel Leaf Essential Oil, Copaiba Essential Oil, Cayenne Pepper Oil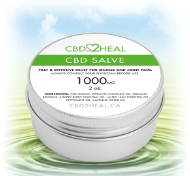 SAVE 20%. Use Code:
71SAVECBD!
HIGHLIGHTS:
1000mg CBD
Essential oils, beeswax
Aids in relief of muscle & joint pain
Made in Canada
#1 flagship selling product
Certificate of Analysis
Free shipping until further notice
_______________________________________________________________________
(6) Charlotte's Web CBD Stick Bomb
This new stick balm is formulated with menthol, peppermint oil, turmeric oil, and ginger oil to soothe larger areas of the body like the thighs. Great for after exercising, walking or bedtime.
Ingredients: Full spectrum CBD, beeswax, menthol, peppermint oil, turmeric oil, and ginger oil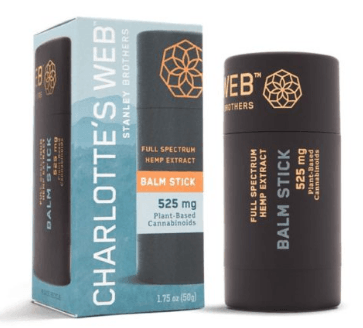 Highlights:
525mg CBD per stick
Fulll-spectrum CBD
Natural ingredients
Vegan (except Beeswax)
Perfect for large areas of the body
Gluten free; no animal testing
Free of 8 major allergens
_______________________________________________________________________
(7) Medterra CBD Rapid Cooling Cream 
Medterra CBD Rapid Cooling Cream is a powerful combination of CBD and certified organic ingredients to provide rapid cooling to soothe your sore and tired muscles and joints. Long lasting relief in a natural formula.
Ingredients: MCT Oil, 99%+ Pure CBD Isolate
_______________________________________________________________________
(8) Receptra Naturals Serious Relief + Arnica Targeted
Receptra Naturals Serious Relief + Arnica Cream is formulated with broad-spectrum CBD  and natural and organic ingredients to promote recovery for muscles and joints quickly. It is combined with arnica and essential oils to target swelling and inflammation.
Ingredients:  Broad-spectrum CBD Hemp, Arnica, Jojoba, Jasmine, Ylang Ylang, Camphor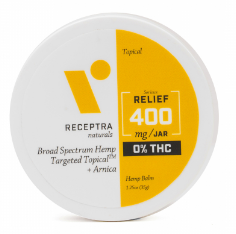 Exclusive Coupon – Take 15% off




Use Code: iscbdforme15
HIGHLIGHTS:
400 mg CBD
Arnica for pain + Essential oils
Minimizes swelling & inflammation
Use before or after training
Zero THC
Family-owned business
Third-party testing
30 day guarantee
Free shipping
_______________________________________________________________________
What is CBD & THC
Cannabidiol, or CBD, is a phytocannabinoid (compound) that is found in the cannabis plant. It is one of the key ingredients and accounts for up to 40% of the plant's extract. Unlike THC, the other well known ingredient, CBD is non-psychoactive and won't make you high (euphoric state).
Full Spectrum vs Broad Spectrum vs Isolate 
Full-Spectrum, also referred to as the whole plant, is a combination of terpenes, cannabinoids and compounds similar to CBD, found in the plant.
Broad-Spectrum is similar to Full Spectrum but with the THC extracted. It still has all the original cannabinoids and terpenes.
Isolate is pure CBD; at room temperature, the cannabinoids are solid crystals, are odorless and colorless. They are commonly used in edibles and beverages but unlike the full and broad- spectrum CBD, they do not contain the terpenes and other cannabinoids found in the plant.
Endocannabinoid System
Our bodies have natural cannabinoid receptors, found throughout the body, that work with the endocannabinoid system (neurotransmitters or chemical messengers – the way our cells communicate with each other).
Cannabinoid receptors are located throughout our body and are part of the endocannabinoid system – CB1 Receptors (highly concentrated in the brain and nervous system as well as our sense organs, moods, emotions, pain, and appetite) and CB2 Receptors (found in the peripheral tissues and cells of the immune system and affect inflammation and pain).
While CBD does not directly interact with the CB1 and CB2 receptors, they are the signaling pathways for our anxiety, stress, pain and inflammatory responses.
Safety
In a 2018 report, the World Health Organization (WHO), stated there is no evidence of recreational use of CBD or any public health-related problems associated with the use of pure CBD.
What to Look for When Choosing a CBD Product
There are several things you can ask to ensure you are getting what you pay for.
Is it a reputable company

Where are their products sourced from

What extraction method do they use

Do they provide third-party testing – are the results readily available

What ingredients are they using – are they natural, organic, etc.

What is the amount of CBD per dosage or bottle

Is there any THC in the product? If so, is it 0.3% or less

Is it broad-spectrum, full-Spectrum, or isolates

Is the company making strong health claims – if so, this should be a signal to avoid the product
Final Thoughts
We hope you find this list of CBD Sports Creams to Soothe Muscles and Joints after a workout helpful. These topical creams have been known to help support recovery from exercise-induced inflammation, and to soothe tired and sore muscles. 
Have you ever tried (CBD) Sports creams? Did they help you? Let us know in the comments below.
Since 1994, I have suffered on and off with chronic pain as a result of degenerative joint changes in both my hips and knees. After refusing traditional pharmaceutical prescriptions as I felt they were invasive to my body, I started researching CBD products, specifically oils and medical marijuana products. I am happy to say that I have been taking them for over 3 years with tremendous success!