I would like to share with you the top reasons why I take CBD oil every day.
I've been taking CBD oils for almost two years and like a lot of people, I had to be educated and convinced it was the way to go. I am blessed with fairly good health and take very little medication.
However, in 1994, my doctors said I had degenerative hips and knees and prescribed medication, which I refused to take after learning of the many side effects associated with this pharmaceutical drug.
How I Discovered CBD
Of course, the pain became "tolerable" and a way of life – funny the things we live with every day!
A few years ago, my husband and I began traveling. I should mention here that he had his own pain issues – frayed back lumbar, and arthritis setting in his knees, hips, shoulders, and thumbs.
On one of our trips to Costa Rica, we met a Canadian couple who told us about how she and her husband had their medical marijuana license and that it was easy to get.
Upon our return to Canada, my husband and I both went to a London clinic. Our doctor was old school and would not refer us to another doctor so we chose this route as we were told we did not need a referral. We met with a medical doctor who suggested medical CBD/marijuana for both of us.
I choose to take only CBD, as my body has little to no tolerance to THC; my husband, on the other hand, has no issue with a little THC mixed in with his CBD.
What I Take and How I Take It
My first CBD oil suggested by a doctor was a yellow spectrum CBD oil, from a company in Ontario Canada, which contained no THC, was a non-GMO medium-chain triglyceride (MCT) oil; I could not smoke it or use a vaporizer. This oil was a unique strain where the predominant cannabinoid produced was CBD. The extraction method used is CO2 technology (it is important to make sure you are getting quality CBD products). Since then, I have tried other brands.
The doctor explained the dosage to me and since I was a total 'newbie' I started off with just a small amount and worked myself up to the recommended dosage. I would take the same dosage morning and night. It comes with a syringe with clearly marked dosage amounts and is easy to consume orally, with or without food, and is a safe alternative to inhalation. What I was taking did not have or leave a bad taste, so I did not take it with food.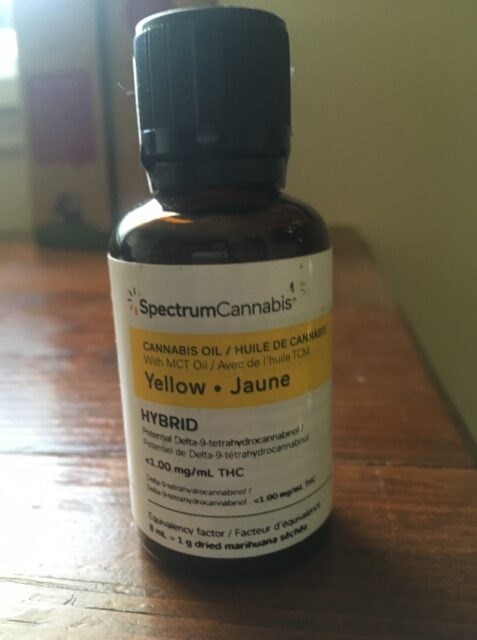 The interesting thing I found was that there was no immediate change. I just woke up one morning about two weeks later and realized I had no pain! That was my 'eureka' moment. I know it works because sometimes I run out, get too busy, and forget to order more. Soon the pain is back as a strong reminder that I need to place another order.
It is the same for my husband – his pain is much more manageable when he takes it consistently.
The other way I take CBD oil is in edibles and will often whip up some muffins, dropping the dosage amount in each one with a syringe. There are many ways you can use CBD oil; you can also use it in a refreshing drink. As a treat, I am adding a recipe for "CBD Spice-icle" you might enjoy.
WHY I Take CBD Every Day
1. Sleep. I would have to say, sleep is probably my number 1 reason. So many nights I would wake up and toss and turn trying to find a comfortable position for my hips, especially if they were both hurting. One hurts more than the other and although they don't hurt equally, they both hurt! Taking CBD at bedtime ensures I get a good night's sleep.
2. Pain Management. A European Journal of Pain study, 2012, concluded that cannabinoids reduce inflammatory and neuropathic pain by targeting a3 glycine receptors and interacting with neurotransmitters. Even though this study did not involve humans, if I can go to bed and sleep with relatively no pain and no side effects, then that is all the proof I need.
You know the saying "Happy Wife…Happy Life?" Well, in my case it was "Happy Wife…Happy Husband." My husband hates to see me in pain and if he knows I am doing something to relieve it, he is happy. Makes sense, right?
3. Mood. I seem to be a much calmer person during the day. Upon getting up every morning, I have a glass of warm lemon water and do a stretch. I think the combination of this with the oil makes for a much more calming day for me. For those of you who need scientific data: In a 2011 double-blind study, 24 Seasonal Affective Disorder patients were given CBD or placebo. The study involved a simulated public speaking test. Those receiving the CBD had a significant reduction in anxiety, discomfort, or impairment in delivering their speech, while the placebo patients were the exact opposite.
4. To Keep my Heart Strong. Another study by the JCI Insight journal in 2017 states: "a single dose of cannabidiol reduces blood pressure in healthy volunteers in a randomized crossover study." Their conclusion on the 9 male volunteers is that the CBD reduces blood pressure in the volunteers both before and after a stressful event. The study says we need further research to determine if CBD has a role in the treatment of cardiovascular disorders.

I am not getting any younger and have at least two deaths in my family because of heart disease. I plan to do all I can to keep my heart healthy and strong.
Final Thoughts
There are many reasons to use CBD. As you have read, for me it is mostly about pain management and getting a good night's sleep. While there are many such stories supporting how beneficial CBD is, unfortunately, we need more studies and research. What is important is that you buy quality products. If you are unsure how to look for quality products, or just want to know more about CBD, click here.
BONUS: CBD Recipe
As promised, here is the recipe for CBD SPICE-ICLE.
Ice-cream and spiced rum are in this refreshing concoction. If rum isn't your thing, replace it with ginger ale.
Ingredients:
2 ounces spiced rum or ginger ale

Vanilla ice cream (or coconut milk ice cream)

Orange sherbet
Directions:
In a blender, add spiced rum or ginger ale.

Add in the vanilla ice cream and orange sherbet, in equal parts.

Blend until you reach a creamy consistency.

Add in CBD Orange tincture, giving it a light stir.

Pour over ice.
Delicious!
WHY JOY ORGANICS CBD ORANGE TINCTURES
Contains: Organic MCT, Phytocannabinoid-Rich Hemp Extract, Organic Orange Essential Oil, Humulene, Myrcene, and β-Caryophyllene

Fast-acting; easy to take

THC-FREE

Manufactured in the U.S.A.

Broad Spectrum

Approximately 18 months shelf-life
FDA Disclaimer: Any claims or statements made about the possible health benefits conferred by any CBD or marijuana products have not been evaluated by the Food and Drug Administration and are not intended to diagnose, treat, prevent or cure any disease.
This post contains affiliate links. For more information, see full disclosure here.
Have you tried CBD for your pain management or for anxiety? If so, what did you think of it? If not, would you consider it? Please leave your comments below and let us know.
Since 1994, I have suffered on and off with chronic pain as a result of degenerative joint changes in both my hips and knees. After refusing traditional pharmaceutical prescriptions as I felt they were invasive to my body, I started researching CBD products, specifically oils and medical marijuana products. I am happy to say that I have been taking them for over 3 years with tremendous success!