Sorry, I have been out of commission for a few days, but I had a minor accident recently and sudden changes in the blink of an eye occurred.
The day started out great. The sun was shining with the promise of a beautiful day. A friend invited my husband and me out to dinner, and we were quite excited because we had been socially distancing for several months.
I wanted to make deviled eggs because I thought it would go well with the menu. But first, we were going to ride our bikes to the local grocery store to pick up a few things, and I wanted to get a couple of good wines.
Starting Out
Armed with our masks and bikes, we exited the gate and got on our bikes. In retrospect, I should have walked the bike a bit first.
In the street was a thick rope and some groundwater thanks to construction work in the immediate area. My husband easily rode over the rope (I don't know if it is because he is a more experienced rider) but when I followed I was not so lucky.
Instead of my tire going over the rope, it became parallel to it; before I had time to react, I lost control and went down – hard!
In the Blink of an Eye – something happens very quickly as to seem almost imperceptible!
Aches and Pain
My right side from the middle of the knee, right up to my shoulder, was hurting.
I couldn't get up and in addition to hurting and looking undignified, I felt quite embarrassed.
My husband heard me go down and immediately came to my aid and insisted I not move. I insisted I wanted to be inside. With his help and another kind person, they lifted me to my feet, and we slowly made it back inside the house.
Ice, Meds, and Booze
It didn't take us long to realize we weren't going anywhere, and that the anticipated dinner was not to be.
My wrist and hand immediately ballooned as well as the back of my knee.
The first 3 days I couldn't walk without a cane or help. I constantly iced the areas that were swollen and hurting the most – my fingers, hand, wrist, and backside of my knee.
I have been told by family members that I have the 'stubborn LeBlanc genes.' I decided I didn't break anything but had a severely sprained wrist and did not go to a doctor in spite of kind offers to drive me. I was in Mexico and didn't want to bother anyone.
During the day I would alternate Tylenol and Advil. At night I would have a couple of drinks. Those who know me well will know I never mix drugs (even over-the-counter ones) with alcohol, so that should give you an idea of the level of pain I was in.  I don't recommend this, but it is what I did.
How I wished I had my CBD with me. Heck, I probably would have taken THC. Back in Canada, I would take CBD morning and night to relieve the pain in my degenerate hips so I could function and sleep at night. I would have welcomed even a CBD or CBD/THC topical cream!
You can get CBD in Mexico City by prescription, but it is not readily available in the location I am in.
Sleeping at night was not too bad unless I woke up, and then I had a hard time getting comfortable and falling back to sleep. Most likely that was because the effects of the Tylenol or Advil were wearing off.
The Things I Took For Granted
I was so lucky to have someone with me. My husband literally did everything, from cleaning to cooking to getting groceries to helping me whenever I needed him. I couldn't have managed without him.
We don't have a car here, but he made it his personal mission to make sure I had medication and to find me wrist and leg supports. On the first day, he went to 7 pharmacies but couldn't find the supports. The next day he looked online and found a place in Playa del Carmen. Off he went and came back with a comfortable wrist support and a wrap for my knee.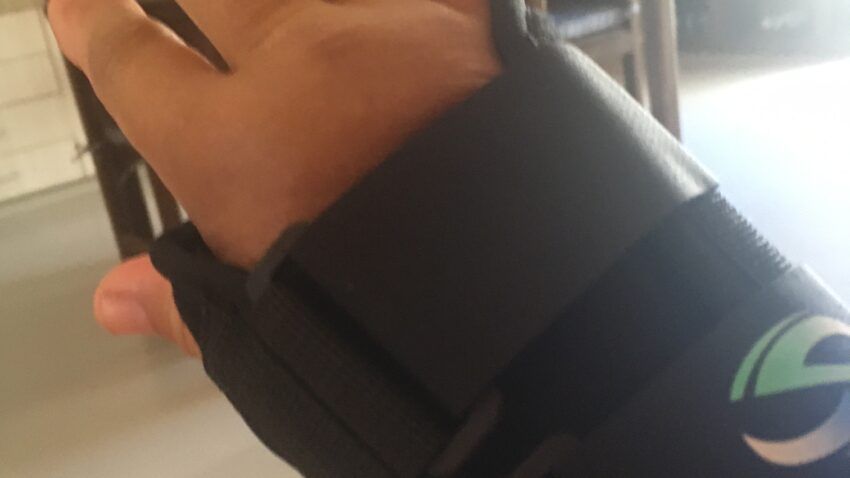 My Fancy Wrist Support
The simplest things were either a chore or impossible to do:
Walking without assistance

Washing my hair

Brushing my hair and teeth

Going to the bathroom

Eating with my left hand

Doing anything that required 2 hands (such as using my laptop)

Dressing myself

Putting in and taking out my eye contact lenses
It is taking a while for my hand/wrist to heal. As of this writing (9 days later), I can use my fingers for short periods but the wrist is very painful, there is still some swelling (but I can now see knuckles), and my arm is an ugly shade of purple (which arrived about 3 days after the fall). My left hand is definitely getting a workout!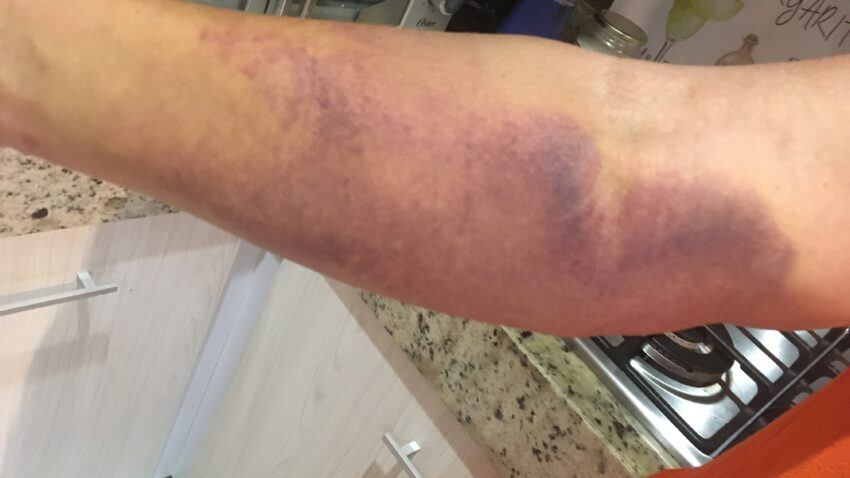 Bruise On Day 3
On day 4, with my wrist support and a wrapped knee, I could take a short walk to the beach where I rested a while before heading back.
On the flip side, I could have broken my hip or landed on my head. So many people here in this part of Mexico ride without helmets, but my husband insisted we buy and use them. While my head did not sustain any injury, if I had fallen in another position, it could have been a different outcome.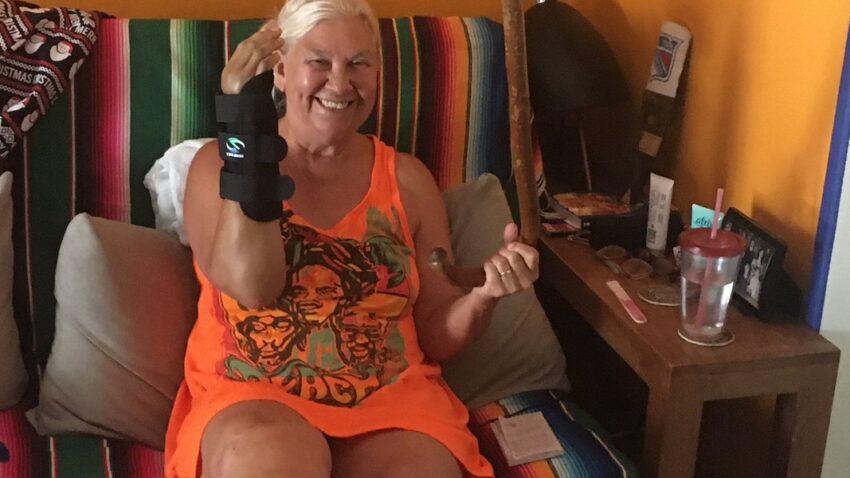 Getting Better
Final Thoughts
I thought back to the time 2 years ago when my daughter had her car accident. She had 11 broken bones in her body. I don't know how she managed to get through it and survive. I know she had a lot of determination to get well. Maybe she has the 'stubborn LeBlanc genes' as well! Fortunately, she too had lots of help.
I know how frustrated and helpless I feel.
It also makes me realize how plans, daily routines, and our lives can change in the blink of an eye!
Since 1994, I have suffered on and off with chronic pain as a result of degenerative joint changes in both my hips and knees. After refusing traditional pharmaceutical prescriptions as I felt they were invasive to my body, I started researching CBD products, specifically oils and medical marijuana products. I am happy to say that I have been taking them for over 3 years with tremendous success!