Pets to some of us mean everything. They are our family and sometimes we are inconsolable when we lose one to death. They mean so much to us that we are willing to spend hundreds, even thousands of dollars to ensure they are healthy and well taken care of. This care, of course, includes visits to the vet and sometimes medication and surgeries. Pet owners are turning to CBD to help their beloved pets and as with the

controversy

 surrounding CBD for humans, it also affects animals.
What is CBD?
Many individuals still don't know the difference between CBD and THC.
CBD is a key ingredient  (cannabinoid) in cannabis (Marijuana) and accounts for around forty percent of the plant's extracts; THC is another key ingredient. CBD is non-psychoactive thus you won't get the 'high'. There are approximately 113 cannabinoids but these two are the main ones.
In the US cannabis is considered a

Schedule 1 drug

and in Canada a Schedule II drug.
Is CBD Legal for Pets
The Canadian Veterinary Medical Association has not given the go-ahead to use CBD with pets. Veterinarians are not allowed to prescribe CBD products for pets stating that Health Canada has not approved it, making it illegal to administer it. The College of Veterinarians of Ontario (CVO) states "There are currently no CBD (cannabidiol) products approved by Health Canada and therefore no legal pathway to obtain these products for animals."
The biggest difference between CBD cannabis and hemp cannabis is that the CBD contains significant amounts of THC while the hemp contains little to no THC.
Hemp-based products are sold in stores for pets and should have none or very little THC (less than 0.3%). Hemp-derived CBD is legal and just as it is so in the US, CBD with less than 0.3 or less is legal and available as edibles, oils, tinctures and vaping, and others. Anything over 0.3% can be illegal regardless of whether it is hemp.
Note: In keeping with the controversy surrounding CBD, under Federal law, any product,

whether or not they contain THC,

made with the flowers, leaves, stems, and germinating seeds of the marijuana plant is illegal.
Some key differences between Hemp CBD and Marijuana CBD (both are cannabis).
Hemp:
– is legal in Canada and in all 50 states.
– can easily be obtained through websites online.
– contains none or trace amounts of THC (less than 0.3% – produces more CBD.
than THC)
– is not psychoactive therefore doesn't cause a 'high'.
Marijuana
– contains higher levels of THC in conjunction with either high or low levels of CBD (produces more THC than CBD).
– can be difficult to obtain (in Canada) unless you have a medical license (medical Marijuana may contain 5-20% THC). In some states, marijuana-derived CBD is legal, for recreational and medicinal, but not all and every State will have its own laws governing CBD.
– if high in THC could cause undesirable effects.
What Veterinarians have to Say
There are cases where veterinarians are experimenting with  CBD in managing conditions in their own pets. Dr. Katherine Kramer, Vancouver Animal Wellness Hospital, is one of them and states that a lot of veterinarians who are claiming a lack of research and questioning the legality of CBD are saying something else in private. She continually speaks about the benefits of CBD.
Kramer feels that there are plenty of testimonials from individuals on how their pets find relief from such conditions as chronic pain, anxiety, and arthritis with the help of CBD. A lot of owners don't like the side effects traditional medicines have.
Another Veterinarian, Dr. Andrew Jones from British Columbia Canada, believes in natural remedies for his own dog Lewis. He has written several articles on alternative, non-traditional remedies for pets including Ultimate Canine for Dogs and has been featured on such programs as Global News and Dogs Naturally Magazine.
In Asheville NC, Dr. Laurel Davis, a homeopathic vet, and owner of Sunvet Clinic believes very strongly that there is a place for CBD and CBD products for animals.
However, there is still no approval by Health Canada and the FDA for CBD in the diagnosis, cure, treatment, or prevention of any diseases in animals, despite the evidence and testimonials of these veterinarians and other individuals, mainly because there has not been enough research or clinical trial studies to date. Under Canada's ACMPR (Access to Cannabis for Medical Purposes Regulations), provisions do not apply to veterinarians or animals.
In 2017, the FDA sent out several warning letters to companies selling drugs containing CBD. After testing the products, The FDA said many did not contain the levels of CBD as claimed.
Not all vets agree that CBD is safe for animals. Dr. Adrian Walton at the Dewdney Animal Hospital in Vancouver feels that there is not sufficient scientific research in place and his main concern is cats as their livers do not process plant products.
Why Pet Owners Might Turn to CBD
There are several reasons why a pet owner might turn to CBD.
Affordability:
Many owners cannot afford the high cost of veterinarians and medical treatments and aren't happy with the side effects which can include vomiting, diarrhea, skin irritation, lumps, stomach ulcers, liver damage, kidney damage, weakness.
Hemp CBD oil contains vitamins A, C, E, and Omega 3 – fatty acids as well as B complex vitamins which include riboflavin, thiamine, potassium, phosphorus, iron, niacin, zinc, calcium, and magnesium. It is also a source of protein containing all 20 amino acids including the 9 essential ones our body can't make on its own.
Increases Appetite:
There are drugs that will help to increase appetite but they usually come with a cost which is unpleasant side effects thus negating the benefits.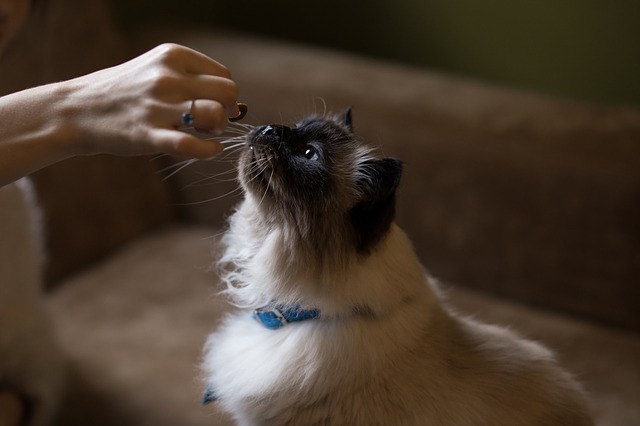 Cardiovascular Health
CBD has been known to promote cardiovascular health due to its anti-inflammatory properties.
Considered Safe:
CBD is natural, non-toxic, and non-psychoactive.
Supports relief from Anxiety and Stress:
Animals, like humans, can also feel stress and anxiety. For example, their owners may have to go away and leave them in the care of strangers.
Final Thoughts
Regardless of the lack of studies and the legalities involved, pet owners will continue to seek alternative health treatment for their beloved pets. We hope that more clinical studies and trials will be available in the not too distant future so that owners can better understand the pros and cons of using CBD for their pets.
No matter your area of residence, If you are thinking of giving your pet CBD products, check with your veterinarian first.
Disclaimer: This article does not constitute a legal or medical endorsement. It is up to you to make sure using CBD oil or medical marijuana is legal in your area of residence, whether for medical or recreational purposes.
Have you or would you use CBD for your pet(s)? What do you think about this – good or bad?
Mary Ann shares her passion and personal experience with CBD and medical cannabis as well as the experiences of others. Do visit regularly to find out the ins and outs of CBD and medical marijuana products. If you are passionate about something and would love to share it on your own website, then click here to get started.