CBD and food? Really? Can this be true?! Not only is it true, but it seems to be what people are asking for! In July 2017, the Monarch and the Milkweed which is a pastry shop, fine diner, and cocktail bar in South Burlington Vermont, began selling cannabidiol-infused truffles. Shortly after, the Green Goddess Cafe said they would offer smoothies, coffee drinks and some baked goods containing cannabidiol (CBD) in August. Dining out is taking on a whole new meaning!
Is This Becoming a Trend?
We know that many people have been experimenting with CBD infused edibles in their home so it just makes sense that food establishments would get in on this. Nothing like a great cup of coffee with your favourite treat, right?
CBD oil has no psychoactive effects (unlike its counterpart THC which is responsible for feeling high or euphoric). Everyone is raving about its many health benefits which include easing anxiety, making us relax, helping with our moods and providing pain relief. Because of these benefits, many businesses are starting to use it in their coffees, teas, and edibles for their customers.
As you can see from this video, Buy Legal Meds, located in Las Vegas, has a wide variety of products including smoothies and desserts. Notice also that a lot of their customers are over 40 years of age!
A cafe in downtown Seattle, the Cafe Hitchcock Express, plans to be open in 2018 and will serve a CBD oil-infused latte!
Flower Power Coffee House in Glendale Queens NY had its Grand Opening in April of this year, serving a coffee with CBD, made by Deez CBD Coffee Founder David Dzurik.
Moorenko's Ice Cream Shop in Silver Springs Maryland is selling a CBD-infused Costa Rican coffee blend even though it is still focusing on its ice cream sales.
Coffee, tea, and desserts aren't the only products using CBD oil. Gracias Madre in West Hollywood is selling enhanced cocktails made with 100% organic cannabinoid oil while Madison in San Diego is serving the Mr. Nice Guy which is a combination of mezcal, CBD oil, matcha (powdered green tea leaves), coconut milk and lime and sells for $18 US.
These are just a few of the establishments springing up in the US.
Whether all of these proposed establishments will be legal and stay open, remains to be seen.
Will Canada Follow Suit?
Now that Canada is legalizing Recreational Marijuana, will we see a trend here as well?
Tee Krispil who is a Canadian rapper and hails from Ottawa is a bit ahead of the curve. She began making her own 'teas' while in college and is already selling her products. She owns Fleurs Lis, operating with 7 women, in Yaletown, Vancouver. Krispil launched Fleurs Lis by throwing teabags to a crowd at the 420 Vancouver Festival in 2017. This year she plans to have her own booth. (Note: see statement below regarding the Supreme Court's ruling on selling edibles).
In addition to smoking and vaping, people will want the edibles, whether it's brownies or candies such as chocolates, gummies, and caramels.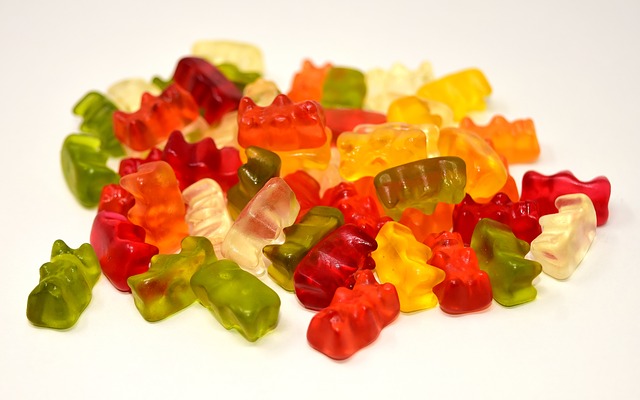 Second Cup is already planning to convert some of its more than 300 coffee shops for cannabis consumption as well as cannabis stores and pot lounges, signing an agreement with NAC (National Access Cannabis) to develop and operate recreational pot stores. This, of course, all hinges on the legalization of marijuana and approval of the Government. Second Cup is hoping this will boost its sales since it has been losing market share to competition from Tim Horton's and Starbucks.
CannTrust, a medical cannabis producer in Vaughn Ontario is developing a pot pod for single-serve coffee makers calling it the CannCup. You will have your choice of coffee, tea or hot chocolate.
While CannTrust is ready to go, it still doesn't have a green light and still has to wait for approval from Health Canada for a license to produce and sell it. Although the Supreme Court's ruling states that Medical Marijuana is legal in ALL its forms, Health Canada is only allowing licensed companies to produce and sell the oil, buds, and leaves but not infused edibles, such as coffees, teas, and desserts.
UPDATE: AUGUST 7, 2020
CannTrust has gone through some major difficulties over the past year including losing its license. Although its license has been reinstated as of August 5th for the Vaughn manufacturing facility, it is not selling medical cannabis products at this time.
This map shows all the licenses issued by Health Canada allowing producers to produce and sell to the public (who are eligible) dried and fresh marijuana and CBD oil. These licenses fall under the ACMPR which is the Access to Cannabis for Medical Purposes Regulations act.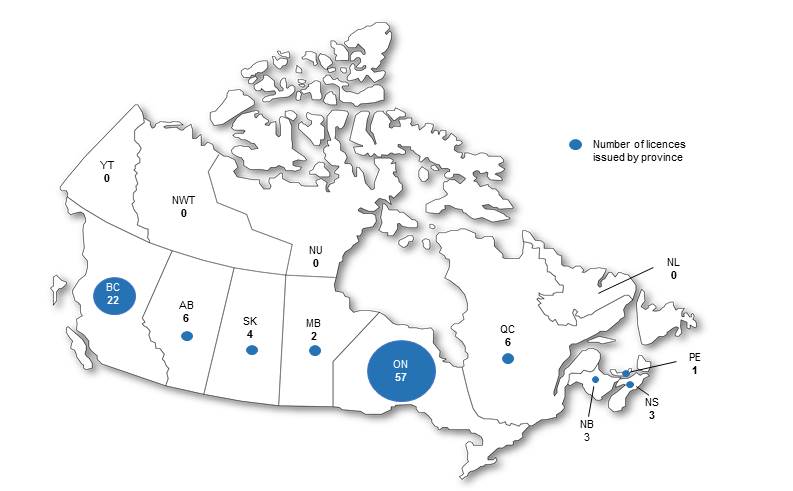 When the Recreational Marijuana law comes into effect, Ottawa has said edibles still won't be legal for sale in Canada. The federal government states that time is needed to develop and regulate laws before edibles are considered safe for the public. When this happens (projected sometime in 2019), a lot of people stand to make some big money. According to BDS Analytics, in Colorado legal sales of edibles totalled over 90 million US dollars in 2014. In 2016 the figures were at 189 million US.
In the meantime though, once Recreational Marijuana is legalized, you will be able to enjoy your own home-baked edibles the same as licensed medical marijuana patients do now.
On a Personal Note
Since I have my medical marijuana license, I make a great brownie using a mix and 1 cup of cannabis butter. I love the mix as it makes 20 – 24 nice dense brownies, is gluten-free which is a bonus if you are gluten intolerant. My husband, who also has his license really likes these. I have made brownies from scratch before but really like this mix better. As far as I know, it is only available in Canada (I buy it from the Bulk Barn and not sure if all stores carry it). You can add chocolate chips, walnuts, and icing if you like but they are sweet enough on their own.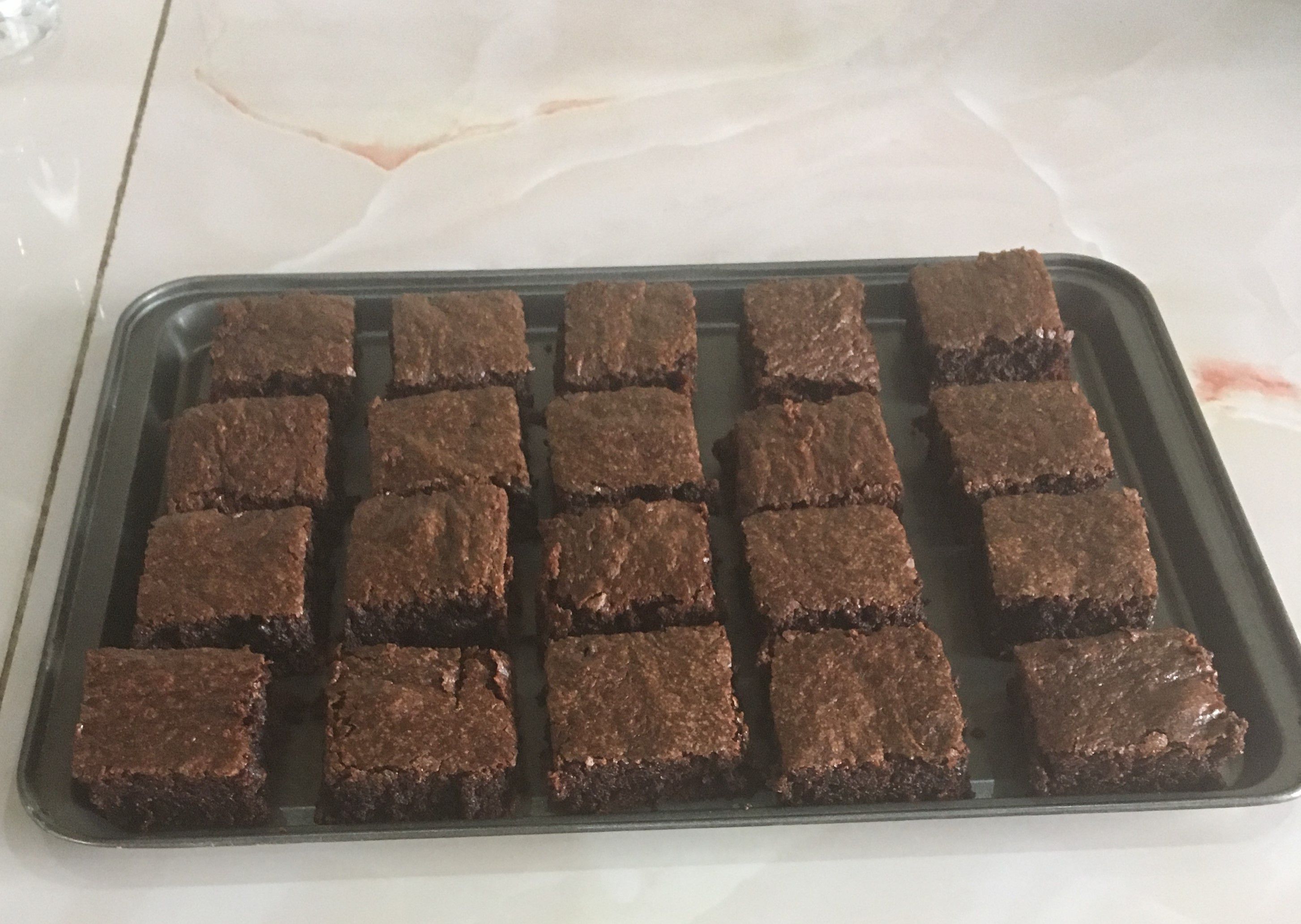 I also make 'no-cook' balls that are loaded with healthy ingredients. Perhaps I will share this recipe in a future post.
(Disclaimer: Please be advised that this content is not a medical or legal endorsement on my part.)
Does the thought of CBD infused coffee or edibles intrigue you? How do you feel about CBD infused edibles being available in restaurants and stores? Please feel free to share any comments.
Mary Ann shares her passion and personal experience with CBD and medical cannabis as well as the experiences of others. Do visit regularly to find out the ins and outs of CBD and medical marijuana products. If you are passionate about something and would love to share it on your own website, then click here to get started.