Arthritis is inflammation of the joints causing pain and stiffness. The pain can be debilitating, sometimes causing a decrease in the quality of life. Here we will provide you with a list of the Best CBD Products for Arthritis along with some statistics, symptoms, and ways you can alleviate the pain associated with this disease.
BEST CBD PRODUCTS FOR ARTHRITIC PAIN
1)

Receptra Naturals Relief + Arnica Topical™ Stick
Serious Relief + Arnica CBD hemp Targeted topical™ Stick is a blend of natural and organic ingredients to promote a speedy recovery and provide relief. Minimize swelling and inflammation with the addition of arnica and jojoba. Apply directly to muscles and joints by massaging into clean dry skin as needed.
Ingredients:  Full Spectrum Hemp, Arnica, Jojoba, Jasmine, Ylang Ylang, Camphor
HIGHLIGHTS
Benefits:
Broad Spectrum – THC free
3 strengths available – 300mg , 750mg, 1500mg
Arnica, Vitamin B6, several essential oils
Targets inflammation
Company:
3rd party testing
USA grown
Free Shipping on domestic orders
100% satisfaction guarantee
Excellent product review
REVIEW
"Just get it. I got one for my mother and another for my boyfriend. My mother has severe joint pain and was honestly in awe a few minutes after applying. My boyfriend has terrible knees that are always swollen especially after working in the service industry his whole life. He applied this and just kept bending them. He then did a pushup. I haven't seen him that energized since I met him. Spend the money and just get it. Definitely will re-buy once we finish."
2)

Joy Organics CBD Oil Tincture
Take Joy Organics CBD Oil Tinctures for easy and fast results. The THC-free phytocannabinoid –rich hemp formula is simple and safe to take day or night.
Ingredients: Organic Extra-Virgin Olive Oil, Phytocannabinoid-Rich Hemp Extract, Organic Essential Oils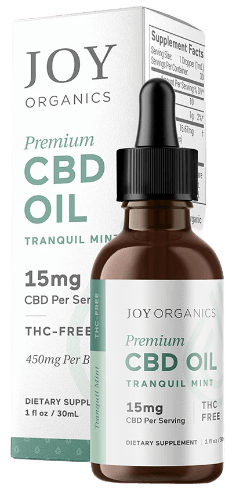 Use Coupon Code: ISCBDFORME15
HIGHLIGHTS
Benefits:
Broad Spectrum CBD
Easy to take
30 ml bottle
Alcohol-free
4 flavours – natural, mint, lemon, orange
 Company:
Family-owned
3rd party testing
100% satisfaction guarantee
5 discount programs – Veterans, First Responders, Teachers, Medical Personnel, Compassionate Pricing
Free shipping
Physical locations as well as online
Excellent customer support
REVIEW
"I can't say enough good things about this company! Their customer service is top-notch and their product literally changed my life. I've only dealt with them online, but I hope to someday be able to visit their physical shop. Thanks for creating this amazing product, Joy!"
3) Elixinol Body Comfort CBD Capsules
Body Comfort CBD Capsules helps your body to function daily with ease and comfort. In addition to full-spectrum hemp CBD, Boswellia has been added. Boswellia (also known as Indian frankincense) comes from the Boswellia tree and has been used for centuries to reduce inflammation by reducing leukotrienes throughout the body​.
Ingredients: CBD, Boswellia, MCT Coconut Oil, Vegetarian Capsules [HPMC, Purified Water, D-Sorbitol], Silica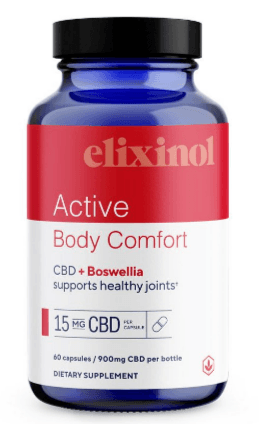 HIGHLIGHTS
Benefits:
15mg Full Spectrum CBD
natural flavour
260mg Boswellia to reduce inflammation per capsule
60 capsules
Supports healthy joints and range of motion
Easy to use marked dropper
Vegan, non-GMO, gluten and lactose-free, cruelty-free
Company:
Featured on National Geographic, CNN, CBS, Fox News, Men's Health & more
3rd party testing
Reputable with 25+ years of knowledge
Full refund within 30 days of purchase
Free shipping nationwide
USA grown
REVIEW
"Helps my joints feel better! I've been taking this for the past several weeks and notice a difference in my hips and back. I feel less achy when I wake up in the morning."
4) CBD Oil Canada Honest Botanical CBD Oil
CBD Oil Canada is on the rise in the CBD industry. They take pride in offering you top quality products including their Honest Botanical CBD oil handcrafted in Vancouver BC. Whether you are suffering from anxiety, pain, inflammation, depression, or just want to support your general well-being, this is the perfect CBD oil (300+ customer reviews).
Ingredients: MCT Oil, Full Spectrum CBD Extract
HIGHLIGHTS
Benefits:
Full Spectrum CBD oil
4 strengths available – 250mg, 500mg, 1000mg, 2500mg*
30 ml bottles
Measured eye dropper for easier dosing
Aids in combating inflammation
Note: *The 2500 mg option has a higher level of THC and may cause a small "high" from the THC.
Company:
Canadian grown
Lab tested
Wide variety of products to choose from
Accept Interact email transfers and Bitcoin
Excellent customer service
5) CBDPure CBD Oil 1000m5
CBDPure CBD Oil 1000mg is the strongest and most concentrated. This oil provides 33mg of daily CBD to your body giving you the greatest concentration of CBD working where you need it to.
Ingredients: Pure CBD oil, unprocessed natural hemp oil

HIGHLIGHTS 
Benefits:
Full Spectrum CBD oil
3 strengths available – 300mg, 600mg, 1000mg
Less than 0.3% THC
Natural hemp flavor
Natural and organically grown
Savings when you buy 3 & 6 months supply
Company:
90 day money back guarantee
3rd party testing
Non-GMO
USA grown
Store locations as well as online
Excellent customer support
6)

Charlotte's Web CBD Oil Mint Chocolate 60mg/1ml
This CBD Oil from Charlotte's Web offers the highest concentration of CBD per ml and is ideal for those who are looking for something more potent to add to their wellness routine. This oil features  a full-spectrum hemp extract with 80 phytocannabinoids and other beneficial plant compounds to support good health.
Ingredients:  Broad Spectrum Hemp Extract, Fractionated Coconut Oil, Organic Mint Chocolate Flavour, Organic Sunflower Oil, Natural Flavours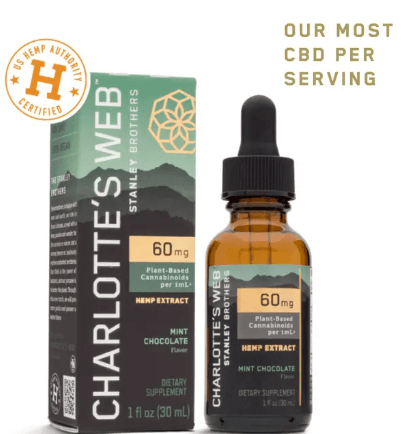 HIGHLIGHTS 
Benefits:
Broad Spectrum Hemp Extract
Maximum strength – 60mg per 1 ml
Gluten-free, non-GMO
100% vegan
Support for every day stresses
No additives or dyes
Company:
Featured on Today, CNN, The New York Times
3rd party testing
Veteran Discount Program
Free ground shipping on orders over $74.99
30 day satisfaction guarantee
USA grown
7)

Green Roads Broad Spectrum CBD Oil 1500mg

 
Green Roads has improved their entire oil line and made it better tasting, simpler to understand, easier to use and a better value.  A rich blend of CBD oil and other hemp-derived cannabinoid extracts offers you a strong support for your daily wellness routine.
Ingredients:  Hemp Derived Broad Spectrum Cannabinoid Extract . Other Ingredients: Glycerin, MCT oil (coconut derived), Sunflower Lecithin, Helianthus Annuus (Sunflower) seed oil, and Hemp Seed oil.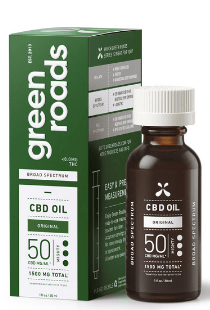 HIGHLIGHTS
Benefits:
1500mg Broad Spectrum CBD
Easy to use measuring tool
3 flavours – Natural, apple Kiwi Bliss, Mint Breeze
Soy-free, gluten-free, vegan-friendly
Mighty strength 
Company:
FDA approved facility
USA grown
Independent laboratory testing
No animal testing or artificial flavours
Excellent product reviews
REVIEW
"Green Roads CBD is great.I have osteoarthritis in my knees and hips that made walking and sleeping impossible. Taking CBD oil has allowed me to quit pain medication, sleep much better, and walk without a walker. I now walk 45 minutes every morning and even shop at the mall. I just turned 73 and haven't been able to do these things in over 5 years. Thanks Green Roads."
8) Medterra  CBD Pain Cream 1000mg
Perfect for sore backs and stiff necks, this pain cream will provide fast relief for arthritis and joint pain. This cream is formulated with Menthol and Arnica, and natural ingredients such as peppermint oil, jojoba oil, and aloe to provide powerful results.
Ingredients: Arnica Montana, Menthol 2%, Peppermint oil, Jojoba oil, Aloe (full list of other ingredients here)

HIGHLIGHTS
Benefits:
Available in 2 strengths – 500mg and 1000mg
Fast relief
Certified organic
0% THC
Non-GMO
 Company:
USA grown
3rd party tested
Full purchase refund within 30 days of purchase
Frontline Heroes Program
Free shipping $99 and over
REVIEW
"Definitely reduces pain from arthritis. Definitely reduces pain from arthritis at the base of my thumbs by applying twice a day. So far has not irritated the skin as opposed to the topical Voltaren I had been using."
Who It Affects
Arthritis can be gradual or a sudden onset. There are over 100 types with the most common being osteoarthritis, classed as a degenerative joint disease, and rheumatoid which is classed as a chronic disabling condition, affecting joints, tissues, muscles, tendons, and fibrous tissues.
Rheumatoid arthritis usually hits between the ages of 20 and 40, causing severe pain and sometimes deformities. According to According to statistics, at least 60% of patients within10 years of onset in developed countries are unable to keep a full-time job.
Osteoarthritis comes with age and affects hands, knees, and hips. It is considered one of the top ten disabling diseases in developed countries, affecting 9.5% of men and 18.0% of women, over age 60, globally; 80% have limited movement while 25% have difficulty performing daily tasks and activities.
In Canada, 6 million Canadians live with the effects of arthritis and put a huge strain on the healthcare system; the figure for the USA is 54 million adults – 300,000 kids!
Symptoms
There are several warning signs of arthritis:
Stiffness, pain, and swelling in the joint(s)
Stiffness in the joint(s) upon rising and lasting for an hour or more
Pain and stiffness associated with inactivity but is better with physical activity
Inflammation around the joints
Less mobility
Bodily changes such tiredness, weight loss, anemia, and sometimes a fever
Treatment
Presently, there is no known cure for arthritis but there are some actions you can take to alleviate the pain.
Regular exercise
Weight loss if needed
Comfortable footwear
Devices during every day activities that will put less strain on the affected joints
Resting the joint and alternating applying ice and heat
Painkillers, or surgery if severe
Arthritis and CBD
In 2019, the Arthritis Foundation became the first major health organization to release guidelines supporting CBD and its possible benefits for arthritis-related symptoms. However, they caution against inhaling due to a spike in vape-related deaths.
A national survey conducted in July on more than 2,600 patients with arthritis came up with some interesting statistics. 52% had been living with osteoarthritis and 45% with rheumatoid arthritis for 10 or more years. They were asked one question: "Have you tried CBD for your arthritis pain?
The results shared were as follows:
79% are presently using it, have in the past, or are thinking about using it
29% are presently using it for arthritis-related symptoms
63% use it daily
26% use it several times a week
62% take it in a liquid form
55% use a topical applied to the affected joint(s)
Besides this survey, studies have been carried out as well.
A study published February 2008, (Cannabinoids in the Management of Difficult to Treat Pain) found that several random clinical trials demonstrated safety and efficacy for Sativex in central and peripheral neuropathic pain, rheumatoid arthritis, and cancer pain.
Another study in 2016 concluded that CBD has therapeutic potential to aid in arthritis-related pain and inflammation without any noticeable adverse side-effects.
However, it is very clear that many more studies and research needs to be done and that more scientific evidence is needed.
Final Thoughts
Why live in constant pain if you don't have to? The companies we have chosen offer top quality CBD and 3rd party testing. We hope our list of Best CBD Products for Arthritis will guide you to pick the best one for you and your body.
We would be interested to know if you have ever used CBD products and how they worked for you. Let us know in the comment section below6
Since 1994, I have suffered on and off with chronic pain as a result of degenerative joint changes in both my hips and knees. After refusing traditional pharmaceutical prescriptions as I felt they were invasive to my body, I started researching CBD products, specifically oils and medical marijuana products. I am happy to say that I have been taking them for over 3 years with tremendous success!