Best CBD Oil for Dogs with Anxiety
6 Best CBD Oil for Dogs with Anxiety
Summary
Signs Your Dog May Be Anxious
Why Your Dog May Be Anxious
Did You Know Your Dog Has an Endocannibinoid System?
How Much CBD Should I give my Dog
What To Look For When Choosing Products
Final Thoughts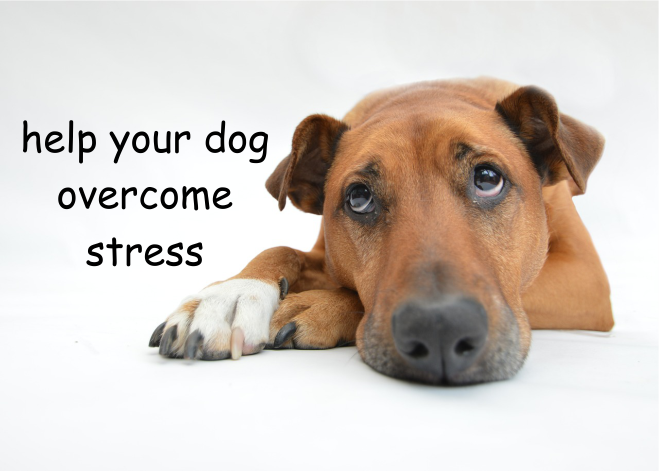 There's no doubt about it. Dogs are a big part of our lives and keeping them happy and healthy is important. Finding quality, affordable products to keep them that way can be a real challenge in today's market. This is especially true when trying to find CBD oil for dogs with anxiety.
Unfortunately, no matter how well we treat them, sometimes a dog is very nervous or anxious – maybe a thunderstorm or firecrackers trigger the feeling, maybe they were abused before you got them or they spent a lot of time in a crate, or they panic in a houseful of loud noisy people and this sends them hiding under a chair. No matter what causes it, we as owners are also filled with anxiety wondering what we can do to help them.
Recently, a sister-in-law sent me an email asking me what she could do about her new dog, a 2 year old Maltese rescue dog from a local shelter, and although he has adapted to his new surroundings, he is very anxious and doesn't like to be left alone. He is showing the classic signs such as panting a lot, pacing back and forth, licking his paws. She was looking into CBD oil and was overwhelmed by the many brands available and had no idea about quality, availability, or pricing. Does this sound familiar?
As owners, you may know what it is like to experience anxiety so you want to alleviate it as much as you can in your dogs so that they are happy and well.
The purpose of this article is to provide you with some of the best CBD Oil brands for dogs with anxiety. The companies listed here are reputable companies offering third party testing and competitive prices. Customer reviews also play an important part in our choices.
Most of these companies are in the U.S. but for you Canadian shoppers we have added a company that I am sure you will want to check out
6 Best CBD Oils for Dogs with Anxiety
Best CBD Oils for Anxious or Nervous Dogs
1) JUST CBD – Hemp Extract Oil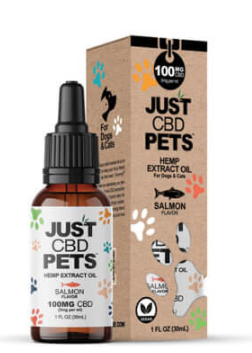 Just CBD prides itself on their quality CBD products for pets. All oils are packaged in their purest form and are as potent as possible. Whether your dog is suffering from loud noises such as thunderstorms or separation issues, Just CBD hemp extract oil is the perfect solution to minimizing their stress and anxiety. Not to worry if your dog refuses the oil – their CBD treats, liver meatballs, steak bites, and chicken biscuits are easy to administer.When your dog is stress-free, you are stress-free!
All CBD oils and concentrates are produced in the U.S.A. using the finest quality ingredients.
It is their mission and promise never to misrepresent the content of their products and they are confident that they won't let you down. They feel they are producing and delivering top quality products that you will love and use often.
2) RECEPTRA NATURALS – Receptra™ Pet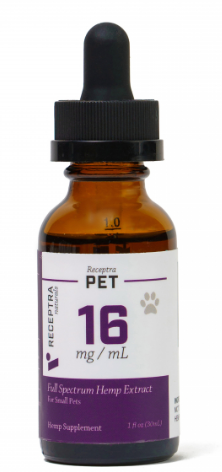 HIGHLIGHTS
Receptra Naturals products are especially formulated for easy digestion using pure hemp oil that is 100% grown on family farms in Colorado.
Benefits include supporting muscle and joint health, maintaining mood, and energy, by using natural organic ingredients.. The blend of quality CBD hemp extract and MCT oil promotes health and wellness for your dog. Products have a natural calming effect helping dogs adjust to new environments, loud noises, or separation anxiety. 
Receptra Naturals is all about quality, and offers premium pet products at prices you can afford. 
Receptra has an excellent Military Appreciation Program by offering a 'forever' discount, as well as partnering with B4BC (Boarding for Breast Cancer) and Mission K9.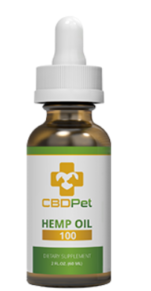 CBDPet believes your pets deserve the same health benefits from CBD as you do. The company uses high quality CBD from certified organic standards industrial hemp grown in Colorado.
The oil contains naturally occurring cannabidiol, terpenes, and other cannabinoids which promotes overall well-being, mood, and stress levels. Simply add to your dog's food.
They also have 'quantity' pricing: 3 bottles for $67.50 ($22.50/bottle) and 6 bottles for $119.99 ($19.99/bottle). This is excellent savings!
4) JOY ORGANICS – CBD Oil Tinctures for Pets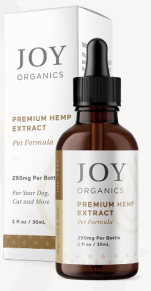 Joy Organics believe that if you want to create the best products available, excellence must be a priority at every stage, starting with natural proprietary strains of hemp that are high in CBD and organically grown in the U.S.
It is important that you protect and promote your dog's well-being. The CBD Oil Tinctures for Pets is full of high quality phytocannabinoid-rich hemp oil, is easy to give, fast-acting, and supports the quality of life your dog deserves. It is easy to administer – either directly into their mouth or added to their food.
They have several store front locations with over 68 highly committed employees to serve you.
5) CBD OIL CANADA – Fortify Nutraceutical CBD Oil for Pets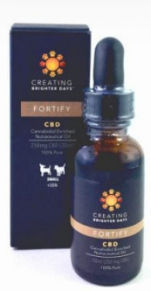 HIGHLIGHTS
CBD Oil Canada is one of Canada's most popular source for CBD products with a 4.9 star average rating from 500 + reviews!
The pure CBD isolate promotes balance and creates homeostasis (stable conditions), the coconut oil aids in the management of brain health, the hemp seed oil promotes immunity and cardiovascular health, and the pumpkin seed aids in the management of  anxiety and overall well-being.
The oils are handcrafted, and 100% natural. The plant-based formulas include hemp seed oil, organic non-GMO super foods, and rich CBD. Consistent daily use will provide the best results to keep your dog happy and well.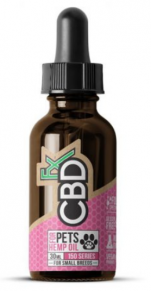 HIGHLIGHTS
CBDFX strongly believes in the best quality CBD products for your dog. Tinctures are made from hemp plants organically grown in the USA.
To help you with the correct serving size, this product comes in three concentrations for small, medium, and large dogs. It is easily administered, either by dropper or added to food. The simple, non-toxic ingredients will help your furry friend to have a happy and balanced lifestyle.
CBDFX has received over 8,000 reviews to date, giving you the confidence that they have top quality products for humans and pets alike.
This company knows the importance of giving back and offers a discount to active and veteran military as well as first responder service men. Order your dog's CBD oil from CBDFX with confidence!
SUMMARY
1) JUST CBD
PROS:
Cbd OIL COMES IN 5 FLAVOURS – BACON, CHICKEN, BEEF, TUNA AND SALMON

Have a wide range of other products for pets

Excellent product reviews

30 day return, fully refundable

3rd party testing
CONS:
Customer service is a bit on the slow side when it comes to responding to email inquiries but once they do respond, they are extremely helpful and accommodating.
2) RECEPTRA NATURALS
PROS:
Give dosage guidelines

Full refund within 30 days

3rd party testing

Available in 4 sizes and special formula for large dogs

Excellent source of Omega 3 and 6 Fatty Acids
CONS:
Only one product available for pets
3) CBD PET
PROS:
Offers a 90 day guarantee

Only use organic CBD oil combined with Hemp oil

3rd party testing

Excellent value
CONS:
Currently offers only one product for pets
4) JOY ORGANICS
PROS:
High grade hemp oil

FREE shipping throughout the U.S.

Use Broad Spectrum products

2 different potency strengths available

Compassionate pricing for those who need it, and discounts for Military and First Responders to ensure your pets are taken care of
CONS:
Although you are getting top quality products, they tend to be a bit more expensive than other brands, however, the good news is that they constantly have great sales, often offering free products with your purchase.
5) CBD OIL CANADA
PROS:
100 percent natural

Excellent reviews

Product testing

If you don't want oil, they have lots of other pet products

Accept email transfers & bitcoin as payment
CONS:
They do not accept returns, however, they want their customers to be happy so they are willing to discuss any situation and come up with a solution that is beneficial to everyone.
6) CBDFX
PROS:
3 Concentrations for small, medium, and large dogs

Only use 2 ingredients – CBD oil and MCT oil

Easily administered

Good value

Excellent reviews
CONS:
No readily information on source of hemp oil
Signs Your Dog May Be Anxious
Since our dogs can't communicate with us, it is important to recognize the warning signs of stress or anxiety.  Some of these are:
Shaking, hiding, crouching and tail-tucking

Panic attacks such as panting or pacing

Destructive behavior

Excessive barking

Loss of control of bodily functions

Nervous scratching, licking, or biting of their skin

Restlessness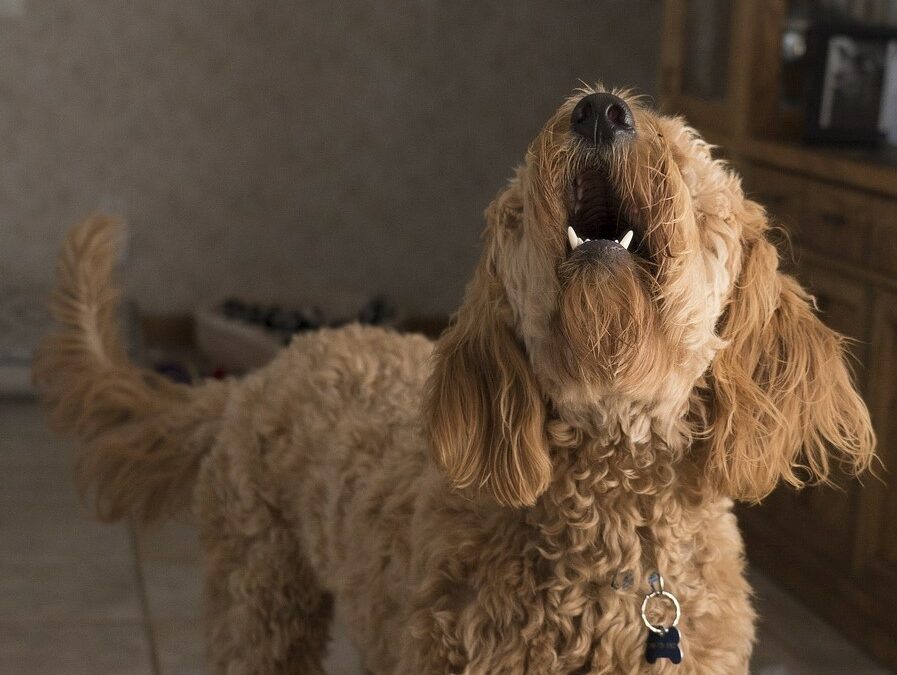 Why Your Dog May be Anxious
There could be any number of reasons why a dog might be anxious. Some of them might not be readily obvious to you. Causes could be:
Fear of abandonment

Previous abuse

Fear related noises such as thunderstorms or sirens

Too many owners in the past

Neglectful treatment

Forced into a scary situation

Not enough social interaction with humans

Being locked up for extended periods of time with no way to escape



DID YOU KNOW…
DOGS, JUST LIKE HUMANS, HAVE AN ENDOCANNABINOID SYSTEM!
How Much CBD Should I give my Dog
This is a very good question and one I researched. Apparently, there are no clear-cut figures that will tell you how much CBD to administer to your dog. This depends on the dog's weight and the strength of the oil – the bigger the dog, the bigger the dose. Most sites seem to quote a standard dose of 1 -2 mg per 10 pounds. Also, a consideration is what the CBD is for – is it for an illness, maintaining well-being, anxiety issues, pain? This will all play into how much to use.
The good news is most bottles will come with the recommended dosage on them. Some companies offer different strengths for different size dogs. Those companies that formulate their own high quality CBD usually will provide detailed instructions on how much and the recommended strength.
Just remember that pure CBD is non-toxic to dogs and there doesn't appear to be any harmful side-effects associated with it.
It is advisable to start small and then work up to what is suggested by the manufacturer. Keep in mind, dosages may vary from manufacturer to manufacturer. If you are still not sure, a good rule of them to follow is 0.2 mg per pound.
What to Look for When Choosing CBD Products
As always, you should be diligent in your research, especially if you are a first time buyer. The above companies are reputable, knowledgeable, trustworthy, and provide high quality, rich CBD products.
However, there are other reputable and good ones besides the ones I mentioned. If you find the company you are interested in, check them out using these few basic guidelines.
Research the seller's production process. The CO2 extraction method is the most popular.

Know where your hemp source comes from. In the states, for example, farmers are required to get certification from state department of agriculture.

It should have less than 0.3% THC. If you are told a product is 100% THC-free, check for yourself. If THC is present, it must be 0.3% or less.

Make sure you are getting Full Spectrum (sometimes it is labeled as the 'whole plant) or Broad Spectrum. Full Spectrum CBD not only contains the cannabinol but also terpenes, flavonoids, and other cannabinoids ensuring you are getting all the benefits. Broad Spectrum contains the same minus any THC.

Ask for 3rd party testing or lab results. Most companies are publicly providing this information and many are putting them right on their websites.
Final Thoughts
Every one of these companies is an excellent choice for CBD oil for anxiety in your dogs. Your pet deserves the same quality care that you would expect for yourself. Whichever company you choose, it is important that you check them out for yourself to make sure you are happy with their products and services.
Have you tried CBD on your dog? What were the results?