Best CBD Bath Bombs and Where to Buy Them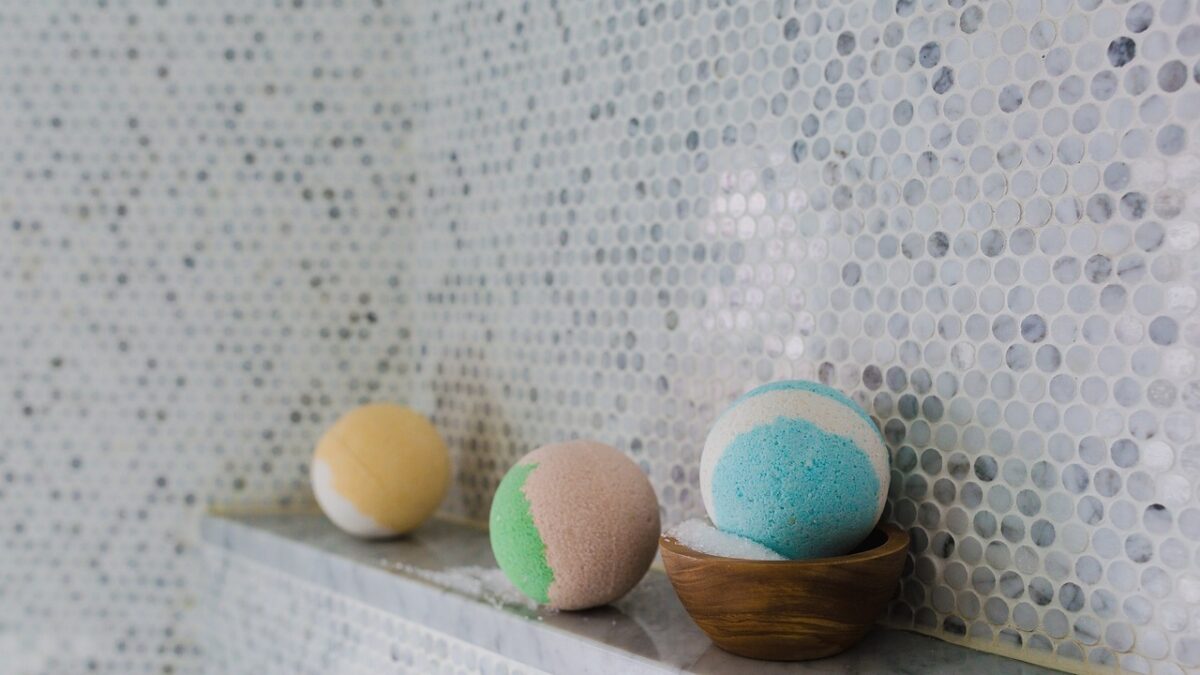 CBD bath bombs are becoming very popular as a way to ease stress and worries while enjoying a relaxing bath. While essential oils are typically used, adding CBD oil brings a whole new dimension to bath bombs. Here, we will tell you where the bath bomb first originated, what they are, CBD benefits, a list of some of the best CBD bath bombs, and where to buy them.
Where did the Bath Bomb Originate
The bath bomb was originally invented and patented by Lush Cosmetics co-founder Mo Constantine. Inspired by Alka-Seltzer tablets, she created what was called Aqua Sizzlers, later known as bath bombs. Mo and her husband Mark spent a lot of time experimenting with ingredients and different molds.
What are Bath Bombs
Bath bombs are primarily made of a weak acid in a bicarbonate base, and dry. When wet, they react by fizzing. Because they can lose their effectiveness over time, it is best to use them up quickly and not store them away somewhere.
Today's bath bombs come in a variety of scents – popular ones include lavender and eucalyptus – oils such as CBD or essential oils, and a variety of shapes and colours.
Costs can vary depending on the company, ingredients used, if third-party testing is involved, and the amount of CBD in each bath bomb.
Why Use Them
It is believed that the CBD works in harmony with the receptors in our body which make up the endocannabinoid (ECS) System, and promotes and supports the following:
Joint and muscle function
Calmness and relaxation
A good night's sleep
Healthy skin
Workout recovery
They are also trendy and fun to use!
7 Best CBD Bath Bombs & Where to Buy Them
Best CBD Oils for Anxious or Nervous Dogs
1) Cannabidiol Life CBD Bath Bomb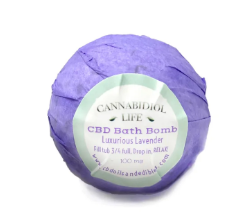 Cannabidiol Life CBD Bath Bombs are produced using premium quality industrial hemp from Colorado.
Contains Cannabidiol Hemp Extract, Epsom Salt, Magnesium Sulfate, Baking Soda, Citric Acid, Cornstarch, Coconut Oil, Almond Oil, 100% Based Food Colouring, 100% Organic Essential Oils.
FEATURES:
100 mg CBD potency

Oils and extracts formulated for relaxation and revitalization

Soothing lavender

Vegan-friendly
COST: $13/per bath bomb
2) CBD Oil Canada -Sweets Heart Delush Bath & Body

Treat yourself to a luxurious bath with Sweet Hearts Delush CBD Bath Bombs at the end of a crazy hectic day. 
Supports and maintains skin moisturization, revitalization and conditioning as well as support the management of everyday stress.
Contains CBD Isolate, Grape  Seed Oil, Epsom Salt, Baking Soda, Citric Acid, Fragance, Lakes/Micas
FEATURES:
75 mg CBD potency

3 scents – Satsuma, Blueberry Yum Yum, Diced Pineapples

Extra-long fizzing activity
COST: $15/per bath bomb
3) CBD Living – Soothing Eucalyptus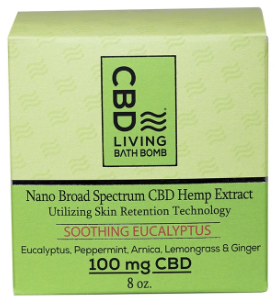 Take a luxurious bath with nano-CBD for maximum absorption and stimulating eucalyptus scent. Use it to support blood circulation, ease stress and anxiety, as well as enjoying the added benefits of hydrating and moisturizing the skin.
Contains Sodium Bicarbonate, Citric Acid, Shea Butter, Cannabidiol, Natural Fragrance, Natural Dye, Alcohol.
FEATURES:
100 mg CBD per 8 oz bath bomb

Vegan-friendly

4 scents – Amber Bergamot, Lavender, Eucalyptus, Coconut Lime
COST: $14/per bath bomb
4) Kush Queen Bath Bomb Bundle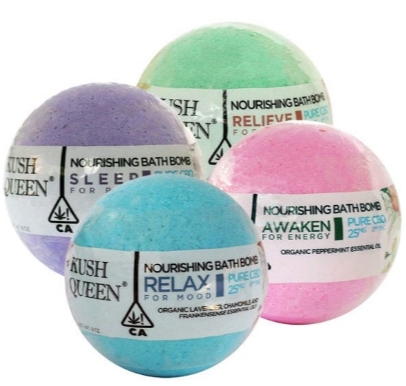 Enjoy a luxurious bath in a blend of Lavender, Chamomile and Frankincense to ease your anxiety, stress, and activity-induced inflammation while giving your immune system a healthy boost.
Contains 100% Organic Essential oils (Lavender, Chamomile & Frankincense), Cannabidiol, Sodium Bicarbonate, Magnesium sulfate, Citric Acid, Cornstarch, Extra Virgin Olive Oil, Natural Colors.
FEATURES:
Available in 3  potencies – 25 mg, 100 mg, 200 mg of CBD

CBD isolate

No artificial dyes or preservatives

4 different Bath Bombs – Awaken, Relax, Relieve, Sleep
COST: Starts at $9.99
5) Joy Organics CBD Bath Bomb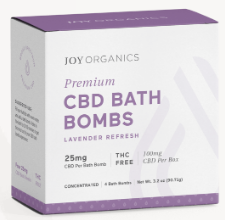 Melt into a luxurious lavender scented bath with Joy Organics Bath Bombs designed with relaxation in mind.
Contains Sodium Bicarbonate, Citric Acid, Organic Coconut Oil, Lavender Oil (Lavender Augustifolia), Water/Aqua, Maltodextrin, Phytocannabinoid-Rich Hemp Extract, Organic Cocoa Seed Butter.
Features:
25 mg CBD

High quality Lavender Oils

Excellent value
 COST: $19.95/pack of 4
6) Green Roads Bath Duo – coming soon!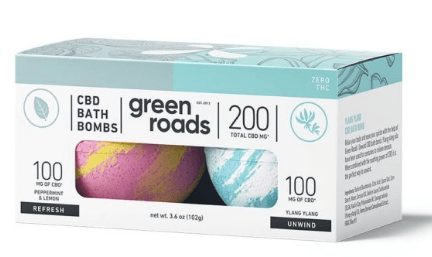 Use this duo pack individually or together to create a unique bath experience. Escape the day's stresses in a calming and relaxing atmosphere.
Contains Roman Chamomile and CBD, and Lavender plus CBD.
FEATURES:
200 mg CBD per pack

Available with Frankincense and Roman Chamomile or Lavender 

Excellent value
 COST: $19.99/pack of 2
7) Just CBD Deep Spices CBD Bomb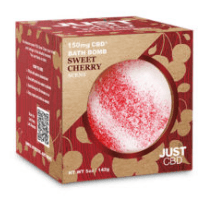 Whether you have relaxation or romance in mind, Just CBD bath bombs are just the ticket. Awaken your senses while unwinding after a long hectic day.
Contains Olive Oil, Sodium Bicarbonate, Citric Acid, Epsom Salt, Jojoba Oil, Witch Hazel, Aloe Vera.
FEATURES:
150 mg CBD per bath bomb

Available in five different scent

contains trace amounts of THC
Do you like bath bombs? Have you tried a CBD Bath Bomb? Let us know in the comments below.
Since 1994, I have suffered on and off with chronic pain as a result of degenerative joint changes in both my hips and knees. After refusing traditional pharmaceutical prescriptions as I felt they were invasive to my body, I started researching CBD products, specifically oils and medical marijuana products. I am happy to say that I have been taking them for over 3 years with tremendous success!