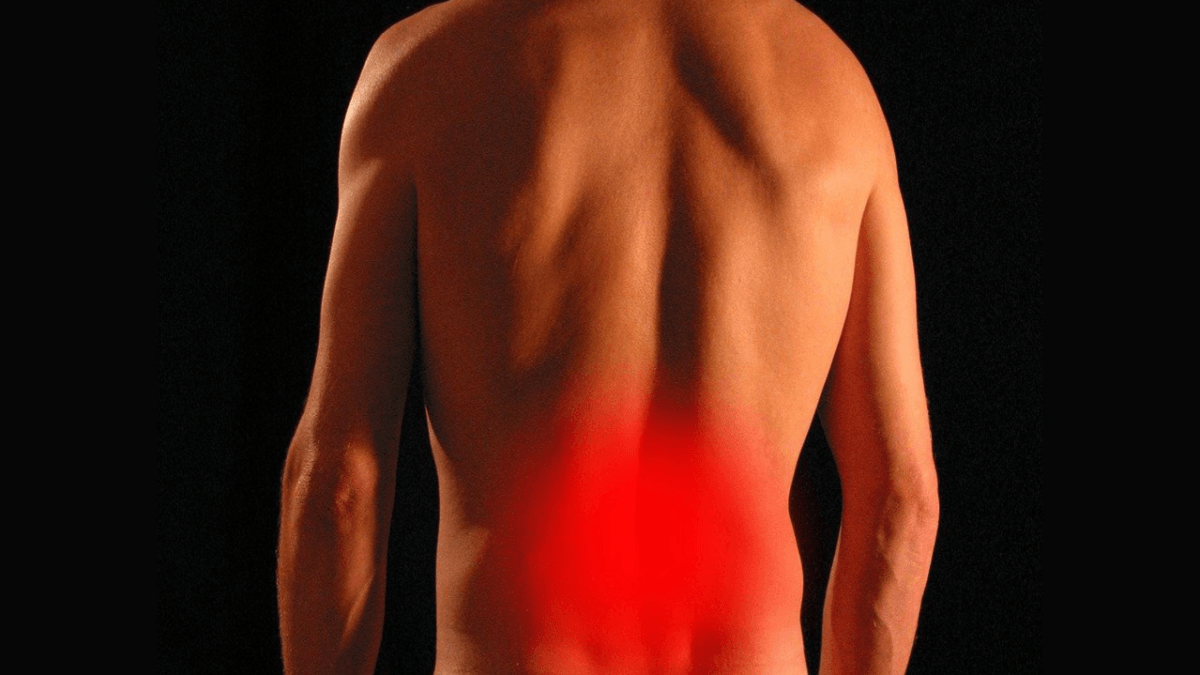 Living every day with chronic pain is not fun – in fact, it can be very debilitating and affect the quality of life of the person suffering. Depression seems higher in those suffering from chronic pain. According to the Mayo Clinic, depression can cause pain and vice versa.
Here we will provide you with the 9 Best­ Recommended CBD Oils for Chronic Pain that can help support your pain management so that you can have a more productive life.
In addition, we will define chronic pain, learn who it affects, a list of conditions associated with chronic pain, and traditional treatments.
Best Recommended CBD Oils for Chronic Pain
1. RECEPTRA NATURALS
Receptra Naturals was founded as a result of an unfortunate accident. Rusty Scott slipped on some ice and severely damaged his knee, suffering a lot of pain. Turning to CBD for relief, he found it wasn't as effective as he had hoped and decided to form his own company. He has never looked back. Today, they have a solid reputation for providing effective quality CBD products.
Serious Relief + Turmeric Tincture 66mg/dose – $149
HIGHLIGHTS:
Receptra Natural's Serious Relief + Tincture is formulated with natural and organic ingredients which is beneficial for getting through each day. This tincture contains MCT, omega 3 and omega 6 fatty acids, so you can expect faster recovery and less physical discomfort.
Ingredients: MCT, Omega 3, Omega 6 Fatty Acids, Turmeric, Full Spectrum CBD Hemp

FEATURES:
3rd party testing
100% satisfaction guarantee
Offers a reward Program
Ships within the USA
Transparent and trustworthy
Grown in Colorado
BENEFITS:
66 mg full-spectrum CBD hemp/dose
All-natural and organic ingredients
Highest quality
Fast recovery from everyday activities
Maximum bioavailability
Benefits of cannabinoids, flavonoids, terpenes
---
TESTIMONIAL:
Pro's Choice. Since using Receptra Relief 66, I have noticed a huge decrease in the joint stiffness that I was having. After playing 13 years of professional hockey, I was suffering from some pretty intense hip issues and could never find relief. I have virtually none of the symptoms that I was experiencing and can now work out and even run like I was many years ago. The product has been incredible and I feel fantastic. I highly recommend it! ~ Kerry P
2. GREEN ROADS
Green Roads was founded by pharmacists Laura Baldwin and Arby Barroso. Seeking a way to come off of opiates, Arby realized he needed help and turned to Laura. As a result, Green Roads and their hemp pure products were created. Now an award-winning company, its main purpose is to help all its customers live life to the fullest.
Full Spectrum CBD Oil 1500 mg – $149
HIGHLIGHTS:
Green Roads' Original Blend CBD Oil is a pharmacist-formulated blend specifically designed as a strong source of support. This oil is made with the finest ingredients including MCT oil and hemp seed oil.
Ingredients: Active: Hemp-Derived Full Spectrum Cannabinoid Extract. Other Ingredients: Glycerin, MCT oil, Sunflower Lecithin, Helianthus Annuus (Sunflower) Seed Oil, Hemp Seed oil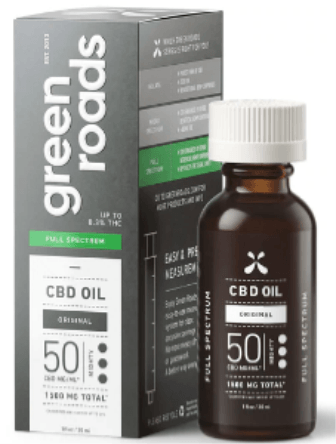 FEATURES:
Full-Spectrum (0.3% THC)
American farmed hemp
3rd party testing
Available in travel size
Easy dosing
30-day money-back guarantee
BENEFITS:
1500 mg CBD
Soy & gluten-free
Natural flavours
Non-intoxicating
Easy dosing
Fast recovery after an active day
ALSO AVAILABLE IN BROAD SPECTRUM (no THC)
---
TESTIMONIAL:
It works well for me. I have tried many different brands of CBD Oil. Most were just a waste of money. This stuff is great!! I always check the 3rd party lab testing b/c a lot of the stuff out there is just that, "stuff." I guess you get what you pay for. I will continue to buy the Full Spectrum 1500 mg CBD Oil b/c I feel the difference. ~ Jacquelyn F
3. CBD OIL CANADA
For our Canadian shoppers, CBD Oil Canada prides itself in delivering the purest CBD products with a premium online dispensary. Except for the Savage CBD line, all their products are manufactured in British Columbia. Noted for their customer service, they are a company you can trust. (See our review here.)
Full Spectrum CBD Oil – Island Therapeutics – $125
HIGHLIGHTS:
This product is perfect for providing relief from anxiety pain, inflammation, depression, and more. It has been handcrafted in BC with the best BC-grown materials delivering you a premium Full-Spectrum CBD Oil Tincture.
Ingredients:  CBD, Coconut derived MCT Oil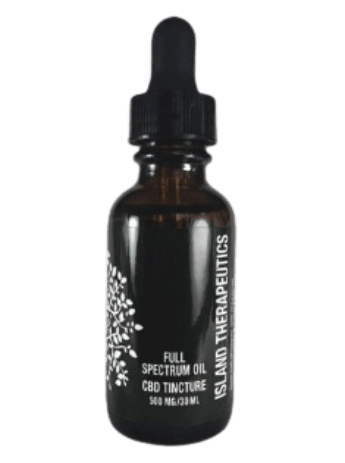 FEATURES:
Light in colour
High-quality medical-grade cannabis
Canadian grown
Certificate of Analysis
Ships within Canada
$150 is $15.00, for orders $150 and over ship free nationwide!
BENEFITS:
Full-spectrum CBD oil
Available in 250mg, 500mg, 1000mg
Mild flavour
Aids in sleep and pain relief
COUPON CODE:
iscbdforme15
---
TESTIMONIAL:
Perfect for Aches and Sleep. I am a recurring customer of Island Therapeutics' full-spectrum CBD oil. It helps me deal with the aches I get from my rheumatoid arthritis. which in turn helps me sleep better. I also use the Pain cream… the lavender scent adds to the soothing feeling. I think I will try the patches next. ~ Lori W
4. CBD MAGIC CANADA
Don't let the name fool you – this Canadian company is not promising magic but is offering luxury premium CBD products that you will love. In addition to full-spectrum CBD oils, tinctures, edibles, capsules, pet-friendly CBD oils, salves and more are also available.
Full-Spectrum CBD Hemp Oil Peppermint – $249.99
HIGHLIGHTS:
This full-spectrum CBD oil is formulated with CBD Hemp Extract, MCT oil, and Hemp Seed Oil in addition to all the cannabinoids, providing you with maximum pain relief. The high concentration is perfect for those seeking to supplement their daily CBD dosage.
Ingredients: Full-Spectrum Hemp-Extracted Cannabidiol (CBD), MCT Oil, Hemp Seed Oil, Peppermint Oil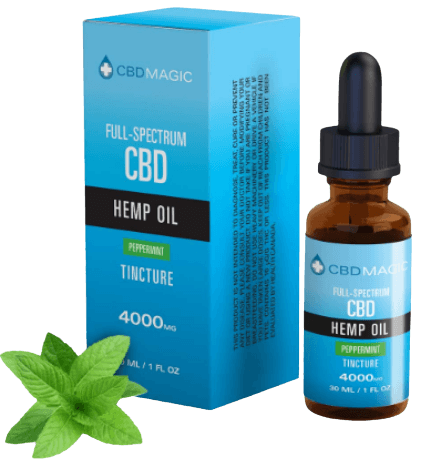 FEATURES:
Full-spectrum – less than 0.3% THC
3rd party tested
Non-GMO
Canada-wide FREE shipping
100% satisfaction guaranteed
Available in 4 strengths
30 ml bottle
BENEFITS:
4000mg CBD per bottle
Maximum pain relief
Peppermint flavour
Natural ingredients
High concentration for maximum relief
COUPON CODE:
71SAVECBD!
---
TESTIMONIAL:
Bought this product for my parents as they are currently suffering from severe joint pain. They both began to feel relief within 2 days! Thank you CBD Magic for the amazing customer service, quick shipping and life-changing product! ~ Andrew
5. MEDTERRA
Medterra was started by a group of individuals who cared about providing quality CBD products to those who needed them. Their industrial-grown hemp adheres to the strict guidelines of the Kentucky Department of Agriculture.
Medterra MedOil CBD Tincture 3000MG – $129.99
HIGHLIGHTS:
One Of Medterra's most popular products is the MedOil CBD Tincture Oil. Available in 3 strengths with 99%+ CBD and MCT Coconut Oil, it is easy to see why people love this safe and affordable product.
Ingredients: MCT Oil, 99%+ Pure CBD Isolate

FEATURES:
Kentucky grown
U.S. Hemp Authority certified
Non-GMO
Zero THC
30 servings
Safe and easy to use
Available in 3 strengths
3rd party testing
BENEFITS:
3 strengths – 500mg, 1000mg, 3000mg
Can be taken morning or night
Accurate measurement for serving
Flavourless
Affordable pricing
---
TESTIMONIAL:
I ended up getting a free sample of the CBD oil and I put it on my shelf where it stayed nearly forgotten for weeks. One day I was lying on the floor and prayed for an ounce of relief. 30 minutes later, no lie, it was gone. Thank you Medterra. It's the biggest gift I could have ever asked for." ~ Rebecca D.
6. CBDISTILLERY
CBDistillery was created in 2016 by a group of Colorado natives who wanted to develop a top-notch quality CBD product that would be affordable for everyone. Their products are USA-grown, organic, and without additives and artificial flavours. They are very transparent about what goes into their products.
Full Spectrum CBD Oil Tincture (5000mg) – $189.99
HIGHLIGHTS:
The 5000mg CBD Oil Tincture is their strongest and best value – a little goes a long way! Combining potency with naturally occurring proteins, minerals, and vitamins you can reap the benefits without the high (only 0.3% THC).
Ingredients: Fractionated Coconut Oil (MCT) and Full Spectrum CBD Hemp Extract (Aerial Parts)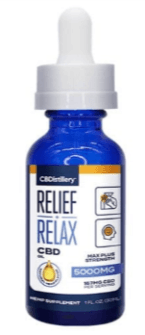 FEATURES:
3rd party testing
Full-spectrum (0.3% THC)
Organic and non-GMO hemp
Colorado-grown
BENEFITS:
Available in 5 strengths – 250mg, 500mg 1000mg, 2500m, 5000mg
Plant proteins, fatty acids, minerals, and vitamins
No additives or artificial flavours
Portable and easy to use
---
TESTIMONIAL:
An excellent product! I recently bought Full Spectrum CBD Oil – 5000mg and I have been using it for over 2 weeks now. I sure love it! I think it's one of the best CBD oil products out there. I'll definitely buy it again and again.  ~Amir E.
7. JOY ORGANICS
Joy Organics, a family-owned business in Colorado, has been providing quality broad-spectrum CBD oils for quite a while. Listening to their customers, they recently introduced full-spectrum CBD oil tinctures that are USDA Certified Organic. This company just keeps getting better. (See our review here.)
Full Spectrum CBD Oil Tincture (1350mg) – $99.95
HIGHLIGHTS:
This full-spectrum organic oil tincture contains 4 premium ingredients with no artificial flavours or colours. Containing less than 0.3 THC, this product provides a variety of phytonutrients and can be taken day or night.
Organic MCT Oil, Organic Phytocannabinoid-Rich Hemp Extract, Organic Key Lime Oil, Organic Stevia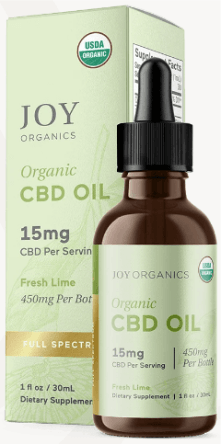 FEATURES:
Full Spectrum – 0.3% THC
USDA Certified Organic
3rd party testing
Safe extraction process using nanotechnology
Free Shipping
Money-back guarantee
BENEFITS:
Pure and potent
Available in 450mg, 900mg, 1350mg CBD (per bottle)
Fast and easy absorption (bioavailability)
Promotes wellness and balance
ALSO AVAILABLE IN BROAD SPECTRUM (no THC)
COUPON CODE:
iscbdforme15
---
TESTIMONIAL:
"Joy Organics products have really positively impacted my life. I am very careful about what type of products I use on my body and for my health, and after days of research, I found Joy Organics. Not only are their products made from high-quality ingredients, but their customer service and genuine interest in the well-being of their customers is on another level. This company goes above and beyond for its customers.  I wish this company nothing but success because you all deserve it." ~ Robert
8. CHARLOTTE'S WEB™
Charlotte's Web™, owned by the Stanley Brothers, is well known for its persistence and dedication in helping Charlotte Figi, a little girl who suffered daily from epileptic seizures. In the beginning, they actually gave away their extract to people who could benefit from it. Their passion for helping others continues today as they craft the finest CBD products on the market.
CHARLOTTES WEB CBD OIL 60MG/SERVING – $274.99
HIGHLIGHTS:
This popular CBD oil offers the highest concentration – 60mg pure CBD per serving! For those already experiencing CBD and wish to up their daily CBD supplement, this oil is full-spectrum hemp containing a variety of phytocannabinoids, terpenes, flavonoids, and essential fatty acids.
Ingredients: Premium Hemp Extract, Carrier Oil, and Flavour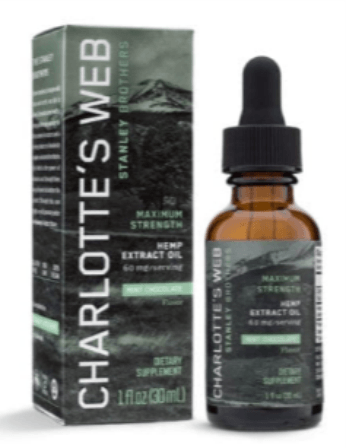 FEATURES:
Full-spectrum
Available in two sizes – 30 ml and 100 ml
CO2 Extraction
3rd party testing
USA-grown
BENEFITS:
60mg CBD/serving
Mint chocolate flavour
Dropper included
All-natural with no additives or dyes
---
TESTIMONIAL:
Excellent product. Moved up from 17mg to 60mg and I will say the taste is different but not in a bad way. My wife has used it more than I but as our first bottle is coming to an end, she made sure our subscription is in place and that she will not be without it. Charlotte's Web delivers quality products at fair prices. Look forward to trying additional products down the road. ~ Randall P
9. CBDPure
CBDPure produces pure, natural and organically grown hemp which is of the highest quality. Each batch is tested by third-party labs. Using the whole plant extraction method ensures you get ALL the benefits of the plants including the cannabinoids, terpenes, and phytonutrients. CBDPure is transparent in its dealings with customers in providing them with the knowledge they need to make the best choices.
CBDPure CBD Oil – 1000mg – $79.99
HIGHLIGHTS:
CBDPure is just what the name implies. Pure CBD oil is designed for experienced users seeking a higher dose of CBD. Each serving delivers a whopping 33mg of CBD, naturally and organically grown.
Ingredients: 100% organic CBD Hemp oil with no additives

FEATURES:
Full-spectrum – less than 0.3% THC
3rd party testing
CO2 extracted
Naturally and organically grown
90-day money-back guarantee
Ships within the U.S.
BENEFITS:
Ultra-high dose – 33 mg pure CBD oil/serving
Accurate dosage
Available in 3 strengths – 300mg, 600mg, 1000mg
Natural hemp flavour
No artificial flavours, preservatives, carrier oils
Savings when you buy 3 – 6 bottles
What is Chronic Pain?
Chronic pain is a pain that lasts longer than three to six months and can start in the body, brain, or spinal cord; it is very difficult to treat (intractable). In medicine, this time frame is used as the benchmark to determine the severity of the pain.
These are just a few of the conditions associated with chronic pain. There are many more.
Persistent pain in an area of the body not connected to another known pain
Headaches
Cancer treatment such as chemotherapy
Muscles and joint pain such as arthritis or osteoarthritis
Lower back pain
Diabetes
Fibromyalgia
Those Affected By Chronic Pain
Statistics have shown that there is a huge population that suffers from chronic pain. According to the CDC (Centers for Disease Control and Prevention), in 2016, an estimated 50 million (20.4%) adults in the United States had chronic pain. 19.6 million (8%) adults had high-impact chronic pain. Statistics Canada puts the figure at six million across the country.
Chronic pain doesn't just target certain people; it can affect women, men, older adults, smokers, or those who are obese; however, it seems highest amongst those who are unemployed, living in poverty, have lower education, or are adults with public health insurance.
In 2016, a study by the Global Burden of Disease estimated that chronic pain is the leading cause of disability and disease burden 'globally.'
It is costly  – $550 to $635 billion annually – including medical expenses and low production costs.
About 58% of people are helped with prescription drugs – that's a little over half (American Academy of Pain Medicine).
Treating Chronic Pain
Prescription drugs such as NSAIDs (Nonsteroidal anti-inflammatory drugs) include aspirins, naproxen, and aspirin, and Opioids or opioid-like (tramadol, morphine oxycodone) which are a cause for concern as they are highly addictive and have negative side effects.
Antidepressants – Prozac (fluoxetine), Paxil (paroxetine), Cymbalta (duloxetine) Wellbutrin SR (bupropion), Norpramin (amitriptyline, doxepin and desipramine), Nardil (phenelzine) – as mentioned earlier, depression can cause pain and pain can cause depression.
Over-the-counter products such as sedatives, ibuprofen, acetaminophen and muscle relaxants.
Topical products include ointments and creams. Some contain capsaicin or a local anesthetic such as Lidocaine.
Surgery if deemed beneficial
Why CBD For Chronic Pain
Several preclinical and clinical studies have shown that CBD is an effective way to help manage pain associated with several conditions and improves the quality of life, as well as:
Increases bioavailability of analgesics
Is non-psychoactive (no high)
Improves sleep
Easily tolerated
Is an anti-inflammatory
May aid in anxiety and depression
Can aid in treating drug addiction
Safe to use
WHO (World Health Organization) states:
CBD exhibits no effects of abuse or dependence potential and no evidence of health-related problems associated with CBD
How to Pick A Quality CBD Oil
There are a few steps you can take to ensure that you pick out a good quality CBD oil:
What is the amount of CBD to THC ratio – if there is doubt, ask to see the lab results
How is it extracted – the CO2 or food-grade ethanol is the preferred method to ensure all cannabinoids and terpenes remain intact
Where it originates from (the United States or Canada) – climate and soil ph can have a big impact on the quality of the CBD
Is it full-spectrum (whole plant) or broad-spectrum – so you can get all the benefits of the cannabinoids, terpenes, flavonoids, glycerides, amino acids, and omega fatty acids
Are the products 3rd party tested – having an unbiased opinion is crucial and a reputable company will provide this
Customer service and support – companies should be willing to answer ALL of your questions or direct you to someone who can
FINAL THOUGHTS
We hope you have a better understanding of chronic pain and what you can do about it. The companies who provide the 9 Best Recommended CBD Oils for Chronic Pain follow the above guidelines.
Check out some of these companies in this post for more information and how they give back to the community.
Do you suffer from chronic pain and have you used CBD to manage it? Let us know your comments below.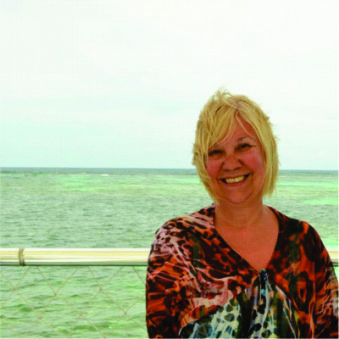 Since 1994, I have suffered on and off with chronic pain as a result of degenerative joint changes in both my hips and knees. After refusing traditional pharmaceutical prescriptions as I felt they were invasive to my body, I started researching CBD products, specifically oils and medical marijuana products. I am happy to say that I have been taking them for over 3 years with tremendous success!