This article is for you chocolate lovers out there, and if you are a chocolate lover (trust me, some people don't like chocolate – hard to believe, right?), chocolate is a tasty way to get your CBD fix.
Here we will list some of the Best CBD Chocolates, a brief history of chocolate, chocolate today, some interesting facts, and benefits of chocolate.
But first, let's dive in and list some of the popular CBD Chocolate available today, just waiting for your sweet tooth.
Best CBD Chocolates
GREEN ROADS – CBD DARK CHOCOLATE BAR
Green Roads has partnered with a small artisan chocolatier creating small batches and using only the best ingredients, to give you a treat not to be missed. This gourmet chocolate bar infused with 180mg of CBD Isolate and 62% cacao is sure to melt stress away, morning, afternoon or night. This bar has 123 (4.9 Star) testimonials.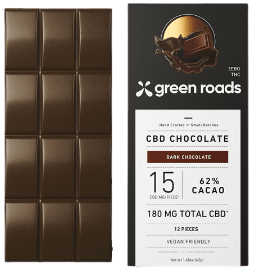 CBD OIL CANADA – CBD CARA MELTS – TWISTED EXTRACTS
Who doesn't love a chewy gooey chocolate caramel? Each cara-melt is infused with 10mg of 99.9% pure CBD isolate, to help relax and manage stress throughout the day. These chocolates have 44 (5 Star) testimonials.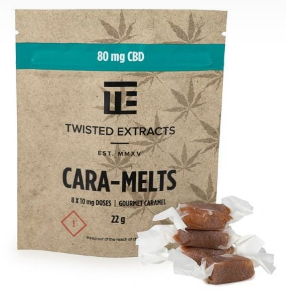 Also available in THC Indica

CBD MAGIC – CANADA – ZENS LEAF DARK CHOCOLATE
This dark chocolate contains 60mg of Full Spectrum hemp extract. Good for those who have moderate to high levels of pain or inflammation.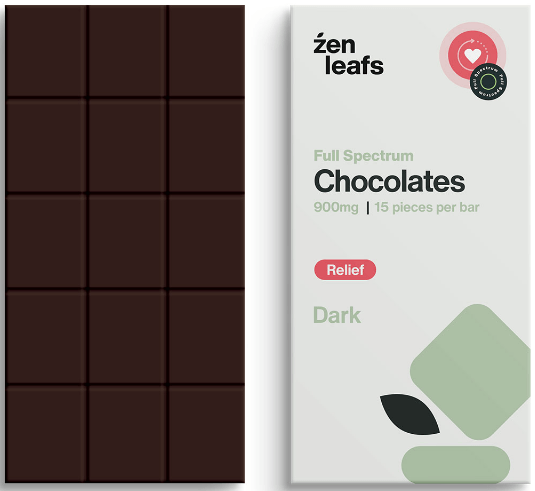 Use Coupon Code: 71SAVECBD! for 20% off

CBD LIVING – CBD CHOCOLATE BAR
The CBD Living chocolate bar is fortified with your daily dose of CBD. Each segment is 25mg of nano broad-spectrum CBD. Enjoy this delicious, creamy bar. Free Shipping on orders of $75+. This dark chocolate bar has 83 (4.5 Star) testimonials.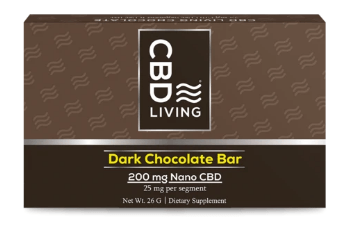 PURE SCIENCE LAB – CBD DARK CHOCOLATE
This company is all about delivering certified high-concentrate organic hemp extract. This chocolate bar boasts 100% natural ingredients with no additives, preservatives, or artificial flavours. Each bar contains 5mg of CBD per square, 28 squares (servings) and is 60% cocoa. 10 (5 Star) testimonials.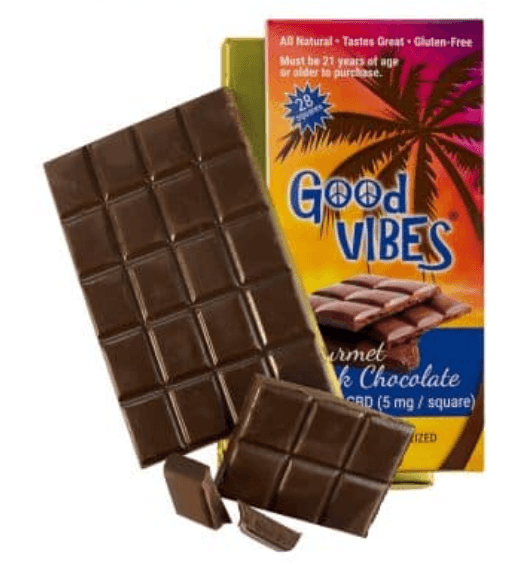 GREEN ROADS – CANDY CANE CRUMBLE (LIMITED)
Stress less and relax more this this delicious hand-crafted artisanal chocolate bar with candy cane crumbles. 15 mg CBD per piece.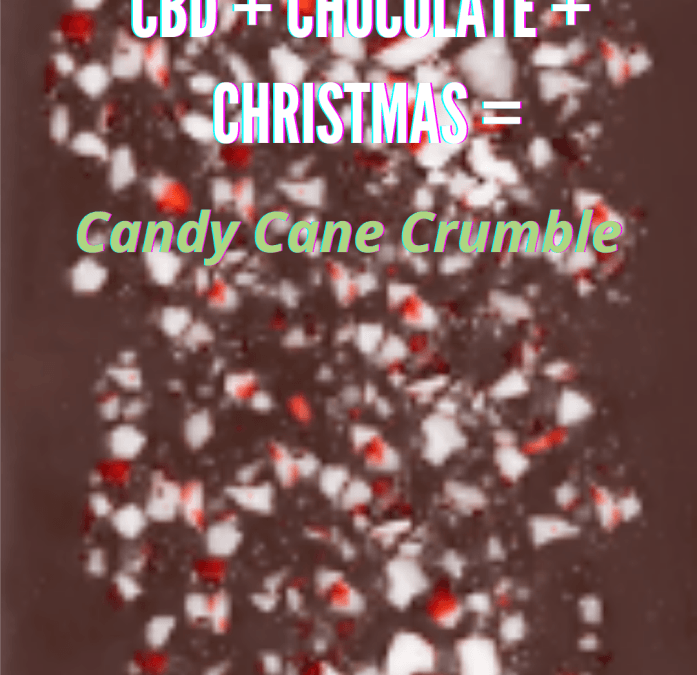 CANNABIDIOL LIFE – CBD CHOCOLATES
This affordable delicious chocolate is infused with full-spectrum CBD and chocolate Dutch liquor providing a decadent treat. Made with 100% all-natural, gluten-free ingredients, this bar may reduce stress, enhance mood, and improve feelings of relaxation. For those who love the combination of chocolate and peanut butter, these chocolates are also available in CBD Peanut Butter Cup.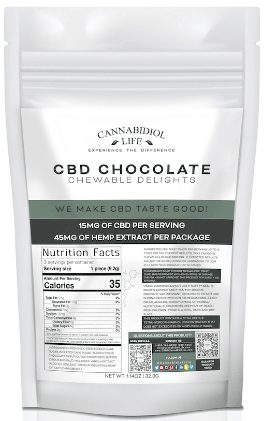 FIVE CBD – SEA SALT DARK CHOCOLATE
For those looking for more than CBD in a bite -with 50mg of CBD and 2mg of THC– these full-spectrum premium CBD chocolates give a blend of blissful flavor. They are also available in Milk Chocolate.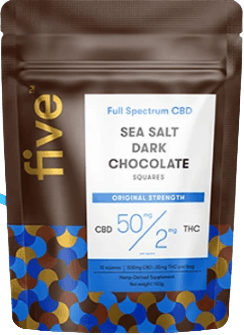 A Brief History on Chocolate
Chocolate originated in Mesoamerica (present day Mexico). Fermented drinks from chocolate date back to 450 BC. The Mexica believed that the cacao seeds were the gift of the god of wisdom and by the 15th century, the Aztecs considered them so valuable they were used as a form of currency. It was also considered an aphrodisiac and a source of strength.
The word chocolate comes from the word Xocolātln (bitter water), a variant of Spanish spoken in the Valley of Mexico.
Known as 'Chilate', it is still popular in the south of Mexico, El Salvador, Guatemala, and Honduras.
It is believed chocolate then made its way to Spain in the 1500s, and made its appearance in Europe around 1615, when French King Louis XIII's wife, Anne of Austria (Spanish King Phillip III's daughter) celebrated her marriage by bringing chocolate in from France. It soon followed into Britain.
Cocoa powder came into existence during the 1800s when the chocolate press was invented. When the cocoa powder was mixed with a liquid and poured into molds, the chocolate bar was born.
In 1894, Milton Hershey decided to go into the chocolate business and founded Lancaster Caramel Company, in Lancaster Pennsylvania. In 1900, he sold the company for one million dollars and manufactured the first milk chocolate bar. (He bought farmland approximately 30 miles northwest of Lancaster, which later become the famous Hershey Chocolate Company.
Chocolate Today
While most chocolate today is mass-produced, there are still some select chocolatiers creating chocolate by hand with the purest products available.
According to the Statista Research Department, in May 2021, it is estimated that the global market between 2019 and 2020 grew 30 billion U.S. and will grow by another 15 billion U.S. dollars between 2020 and 2025.
Not to be left behind, Canadians were busy buying chocolate, spending anywhere from $1 to $15 monthly; in fact, some people admitted to buying chocolate every single day!
Interesting Facts
Chocolate comes from fruits called pods that grow on cacao trees.
The first chocolate chip cookie was invented in 1937 by Ruth Wakefield who ran the "Toll House Inn."
For dark chocolate to be beneficial, cacao or chocolate liquor should be the first ingredient listed, not sugar.
In Japan, it is traditional for women to give chocolate to men on Valentine's Day, and Japanese chocolate confectioneries make 70% of their business on this day, annually.
Chocolate melting in a person's mouth can cause a more intense and longer-lasting buzz than kissing!
CBD and Chocolate Retail Sales
While I couldn't find specific numbers on retail sales of CBD chocolate, edibles make up 90% of CBD sales so it's not hard to assume chocolate is a big seller.
Benefits of CBD in Chocolate
We already know that dark chocolate, specifically 70-85% cacao, has several nutrients. New research is finding chocolate to be packed with high-quality antioxidants that may reduce the risk of developing cancer and heart disease. Cocoa and chocolate are rich in minerals that the body needs, including iron, magnesium, potassium, and vitamin B6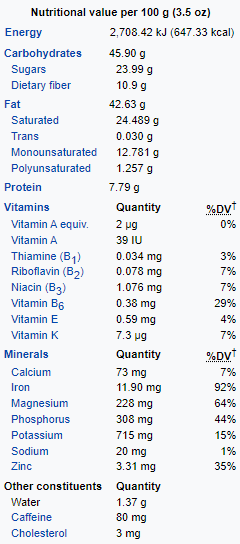 There are many who believe that combining CBD with chocolate can only complement these benefits.
Chocolate contains a natural mood-boosting compound called anandamide derived from the Sanskrit word Ananda which means bliss. It is responsible for memory, focus, and movement control.
Another compound found in chocolate is called theobromine which is responsible for making you feel relaxed and causes the brain to produce more anandamide.
It is believed that when CBD and chocolate are consumed, receptors are activated, thus increasing the anandamide levels.
Final Thoughts
Is CBD in chocolate good for you?
According to Science Daily, researchers are saying that it is difficult to give accurate results of combined CBD and chocolate because the components in chocolate could interfere with the potency of cannabis, so more study is needed.
CBD chocolate makes a great after-dinner snack, it's a great way to get your daily serving of CBD, and can be inconspicuously carried with you.
NOTE: If chocolate isn't your thing, maybe you would be interested in Gummies.
What are your thoughts on CBD in chocolate? Have you tried it? Let us know in the comment section below.
Mary Ann shares her passion and personal experience with CBD and medical cannabis as well as the experiences of others. Do visit regularly to find out the ins and outs of CBD and medical marijuana products. If you are passionate about something and would love to share it on your own website, then click here to get started.