BEST CBD SKINCARE PRODUCTS TO PAMPER YOUR SKIN
CBD seems to be everywhere so it should not come as a surprise that it can also be found in the beauty industry, specifically skin care.
Here we will discuss Industry Figures in the skincare market, Why CBD, our 10 Best Skin Care Products, and some Shopping Tips to get you on your way.
Industry Figures
Skincare is a 'huge' business. In fact, product sales grew by 13% in the U.S. in 2018 to the tune of $5.6 billion, surpassing the sales of makeup products which increased by only 1%.
Part of this surge is attributed to people wanting more pure and natural products as well as social media exposure. Natural skin care product sales exceeded more than one quarter of all skincare sales in 2018.
Skincare sales are not just for women. Sales show that men are purchasing shaving balms, cleansers, and moisturizers. Allied Market Research statistics say that by 2022, the skincare industry for men will reach $166 billion!
Why CBD
So how much of this booming skin care industry is CBD related? Let's find out.
A report published August 2019 on the CBD Skin Care Market for oils, creams, moisturizers, cleansers, masks and serums, concluded the global CBD skincare market was $234.1 million U.S. This figure is expected to reach 1.7 billion by 2025.
– WHAT IS CBD
CBD (cannabidiol) is a naturally occurring compound, discovered in 1940, and is one of the more than 113 identified cannabinoids found in the cannabis plant. CBD is not to be confused with THC which is responsible for a 'high' or euphoric state.
– THERAPEUCTIC BENEFITS
While many studies have been conducted with much more ongoing, it is believed that there are therapeutic benefits from CBD. These include:
As an anti-inflammatory for various skin disorders such as spots on the skin, hair growth or loss problems, dermatitis, acne, seborrhea, eczema, or other painful skin conditions
Soothing properties for sensitive skin
Antioxidants such as vitamins A, D and E to combat premature ageing
Deep skin penetration such as serums
While there are new products coming out almost daily, here are a few that we think are worth trying out, and not just for the women but the men too. Guys, you might want to try Saint Jane The C Drops, Jack Black CBD + HA Serum, or CBD Living CBD Lotion. Your skin deserves to be pampered too!
Hint. Hint. These products also make great gifts for the fave person on your list!
10 BEST CBD SKINCARE PRODUCTS
PRIMA – SKIN THERAPY ULTRA-RICH BODY BUTTER
Say goodbye to dry, dehydrated skin. Say hello to this ultra-rich body butter with 275mg of Broad Spectrum CBD, and five other oils and butters. This cream is designed to absorb quickly, locking moisture in. Almost 400 (4.5 stars) reviews!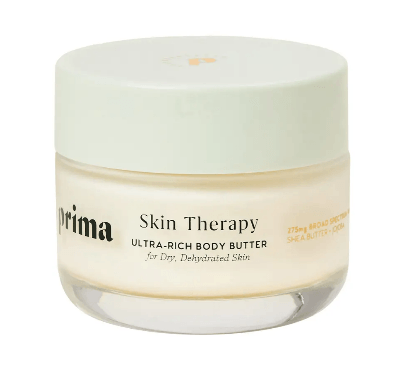 VERTLY – BOTANICAL EXTRACTS CBD FACE SERUM
This serum is packed with 24 nutrient-rich active botanicals and 300 mg of CBD, fortified with vitamins A, D, E and essential fatty acids. Nourish, brighten, and soothe skin with plant oils and the sweet scent of jasmine and floral essence.
SAGELY NATURALS – BRIGHTENING CBD NIGHT CREAM
The Sagely CBD brightening, hydrating night cream contains a healthy dose of antioxidants and moisturizing oils such as bakuchiol seed oil, meadowfoam seed oil, and 150mg of CBD. This luxurious cream will promote brighter and more supple skin.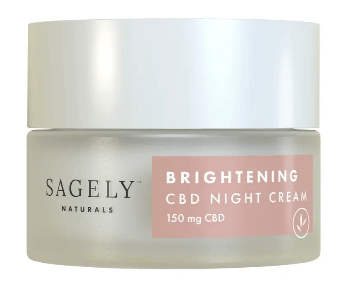 CBD DAILY – LAVENDER DUO GIFT SET
For those who love the scent of Lavender, this intensive 60mg CBD cream soothes and moisturizes while giving all-over relief from discomfort. As a bonus, the Lavender massage candle is included. Both come in a convenient caddy.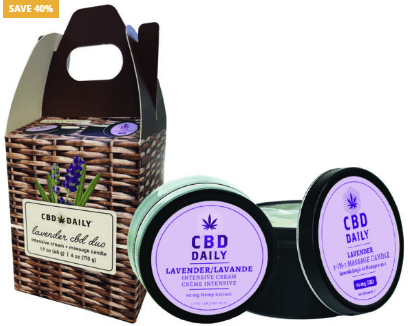 HERBIVORE BOTANICALS – EMERALD CBD + ADAPTOGENS DEEP MOISTURE GLOW OIL
Containing 100mg of full-spectrum CBD, this soothing face oil will help to restore moisture to the skin while the ashwagandha herb protects against environmental pollutants. 134 (4.9 Stars) Reviews!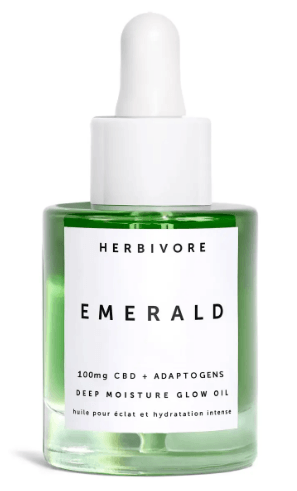 PRIMA – NIGHT MAGIC INTENSIVE FACIAL OIL WITH CBD
Night Magic Intensive Facial oil with 300mg of CBD will help to soften, brighten, and hydrate the skin. In addition to CBD, this oil is fortified with vitamin D, antioxidants, amino acids, and moringa oil rich in phytonutrients, and vitamins A, C and E. Almost 900 (4/5 Stars) reviews!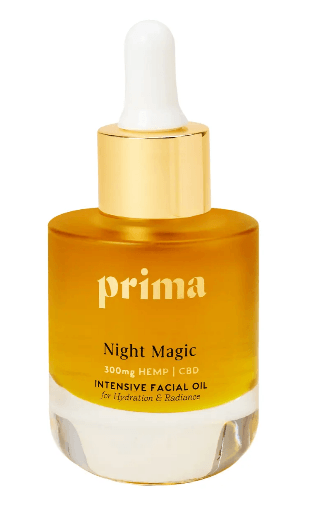 LORD JONES – ACID MANTLE REPAIR CBD MOISTURIZER
This pH balanced moisturizer was formulated to help maintain the acid mantle and rebalance the appearance of stressed skin. The proprietary blend of bisabolol, ginger, and elecampane flower aids in boosting protection from environmental pollutants. Each jar contains 250mg of full-spectrum CBD. Your skin will feel and look more radiant. Comes with a weighted golden spoon for application. 46 (4.6 Star Reviews!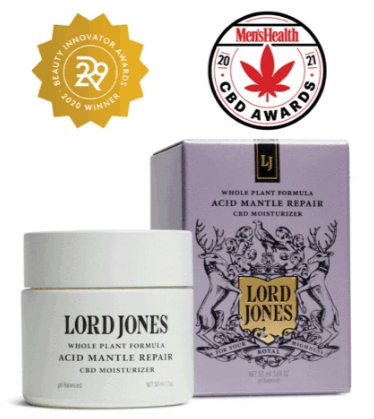 SAINT JANE – THE CBD DROPS
This powerful brightener will transform dull skin. Formulated with 500mg CBD, vitamin C and citrus botanicals, it penetrates to the deepest layers, targeting fine lines and signs of ageing.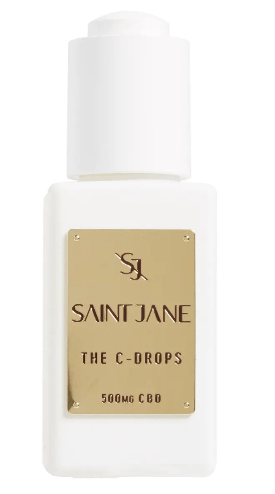 JACK BLACK – CBD + HA SERUM
This antioxidant, rich hydrating serum is suitable for all skin types, nourishing and soothing the skin.  Formulated with 200mg Broad-Spectrum CBD, HA (Hyaluronic Acid), and Sandal Wood oil, it can be used alone or mixed with favourite post-shaves or moisturizers.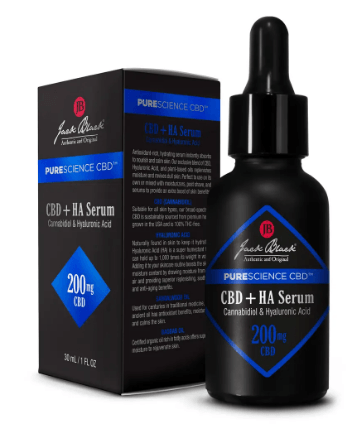 CBD LIVING – CBD LOTION
This lotion delivers a lot – rich, luxurious, non-greasy – perfect for all skin types especially sensitive or allergic reactions to artificial fragrances. The 300mg of nano CBD and calming herbs of Rosemary, Sage, Chamomile, Germanium, and Frankincense penetrate and soothe the skin, giving lasting relief. Travel size also available. 172 (5 Stars) Reviews!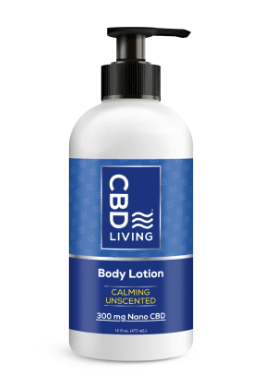 Shopping Tips
Finding a company you trust is important. When choosing a company ask questions-for example, how long have they been in business, have there been any major complaints against them or their products- and check testimonials.
Ask what's in the CBD product
Over the past several years, the FDA has issued several warning letters to companies selling products that supposedly contained certain CBD levels but fell short. As a consumer, you have the right to ask what is in your product.
Does it contain Full Spectrum or Broad Spectrum CBD
Full Spectrum refers to the whole plant. It contains all the plant molecules – the terpenes, cannabinoids, flavonoids, fatty acids, and THC (less than 0.3%), while Broad Spectrum means zero THC. The problem arises when manufacturers remove the THC because they sometimes remove other important parts of the plant.
Does it have third party testing
Most reputable companies offer third-party testing, which simply means that a third party has performed specific tests in the manufacturing process and determines that the intended product does conform to specific industry standards such as safety, quality, and performance.
Check out the list of ingredients. Make sure it actually contains CBD (cannabidiol) or hemp extract, and avoid those that say only hemp seeds, or hempseed oil, or Cannabis sativa seed oil.
There are three popular methods used in processing: CO2 (supercritical carbon dioxide) extraction, hydrocarbon extraction, and ethanol extraction. The CO2 method is the one most commonly used.
The bottom line? Do your research.
Final Thoughts
We hope you enjoyed our list of 10 Best CBD Skincare Products. Why not pamper yourself or a loved one today?
Have you tried any of these products for your skin. Tell us your experience in the comments below.
Mary Ann shares her passion and personal experience with CBD and medical cannabis as well as the experiences of others. Do visit regularly to find out the ins and outs of CBD and medical marijuana products. If you are passionate about something and would love to share it on your own website, then click here to get started.